Main Page
From Love Live! School Idol Festival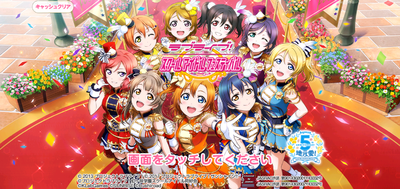 Love Live! School Idol Festival
is a social rhythm game for mobile devices (both for iOS and Android) produced by KLabGames and bushiroad. In the game, the player creates units based on collectible virtual cards and performs Live concerts with a designated unit. All the songs used in the game are sung by members of the Love Live! franchise idol groups: μ's, A-RISE and Aqours.
NOTE: Our wiki tries to be as comprehensive as possible, but we still may miss a few things. We are always looking to improve, so if there are any suggestions or criticisms please be sure to tell us on the Feedback page or on irc in #fang-tan @ irc.rizon.net!
SITE NEWS:
As some of you may have noticed, We have opened registration to the public and are allowing public edits by those with user accounts. This is to allow for those who may be interested in helping out in some of the translations for quotes and side stories (as this has been stalled for a while) to be able to freely add them when they want, as well as letting people correct small mistakes immediately, as they seem to pop up quite frequently as reported in the Feedback. Account users may also make larger changes but it is advised that the matter be discussed in Feedback or the "Talk" tab before implementation, because if we don't like it we'll revert your edits. Note that the sections opened for anonymous editing will still be allowed anonymous editing.
We are still looking for translators to help translate the side stories and quotes in our character pages! If you are interested, please create an account on our wiki and help contribute! Thank you!
The following sections can be freely edited by anyone: Story, Feedback, and English Version Info.
You may access this site at lovelive.kouhi.me and it will redirect to this wiki.
News
The English localization has been released under the name "School Idol Festival". Get it for iOS and Android.

You cannot transfer your JP account to the English server; if you wish to play it then you will have to start anew.
Please note that this wiki will not accommodate for the terminology changes (e.g. they use "idolize" instead of "awaken/transform"), nor the official translations for the stories, quotes, etc. The update news will also be solely for the original JP server, because the English server is pretty far behind and doesn't require translation anyway (also, none of us are actually switching over).
Game Updates
July 15, 2017
Chapters 13-3 and 13-4 of the Aqours story have been added
The rest of the new circus-themed cards have been added to Aqours premium recruitment: UR Ruby, SSR Yoshiko, SR Chika, SR Dia

There is a higher chance of obtaining these cards until July 20 (base SR/SSR/UR obtain rate does not change)

9 new R cards featuring the outfits from HAPPY PARTY TRAIN have also been added to Aqours recruitment
One new N card (Tatara Ruu) has also been added to regular recruitment, as well as the event reward N Maria
July 15, 2017
In celebration of the Friendly Match event starting on July 20, there will be a special login bonus from July 16 to July 31

Log in for 9 days during this period to receive Loveca stones, G, and R Alpacas

There are also two new sets available for purchase during this period, each of which contains an 11-draw ticket, an SR+ ticket, 3 SR support members, 5 SR Alpacas, and 1 million G
July 14, 2017
Starting from July 15 4 PM JST, 11-draw and single premium recruitment tickets can be used for sub-unit, year, and attribute limited recruitment
July 14, 2017
There will be maintenance on July 19 from 2 AM to 5 AM JST

An App Store/Google Play update will be required
July 10, 2017
More of the new ice cream-themed cards have been added to µ's premium recruitment: UR Nozomi, SR Kotori

There is a higher chance of obtaining these cards until July 15 (base SR/SSR/UR obtain rate does not change)

The event SRs Nozomi and Nico (Sweets) have also been added to premium recruitment (low chance to obtain)
Previous updates can be found here.
Current Master Songs
New stages are added on the 1st, 6th, 16th, and 21st of each month and is available for 2 months
Schedule subject to change at KLab's whim
External Links
Wikis
Official websites of SIF
Useful Sites
Other Links
Contact
For criticisms and/or suggestions, you may go to #fang-tan @ irc.rizon.net and tell us there, post it in the Feedback page, or contact TReusbucks to address any issues.