Nakasu Kasumi
From Love Live! School Idol Festival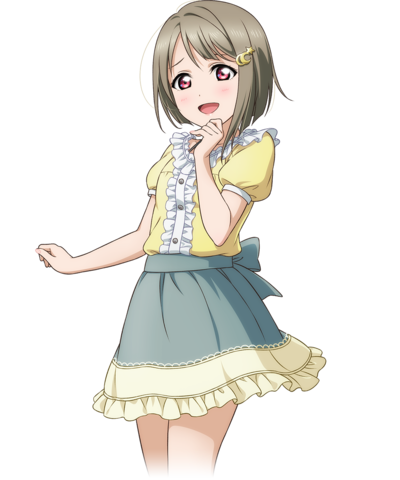 Character Profile
Japanese Name: 中須 かすみ
Grade: 1st Year
Birthday: January 23 (Aquarius)
Blood Type: B
Height: 155cm
Three Sizes: B76 / W55 / H79
Main Attribute:

Pure

CV: Sagara Mayu

A first-year student at Nijigasaki High School. She loves cute things, and her admiration for school idols is second to none. She hates losing and gets angry if someone calls her by the nickname "Kasukasu".
Cards
Rares
...
Super Rares
Nakasu Kasumi [Super Rare #1513]

Max Level: 80

HP: 4

2870

4230

2550


Appeal: Total Trick
For every 20 notes, there is a 36% chance of turning all greats in the next 2 seconds into perfects. (Level 1)




---


Center Skill: Pure Heart
Increases Pure points by 6%.



Above: Special login bonus and available in Seal Shop during April 2018 in celebration of the Nijigasaki High School Idol Club's regular program on Abema TV.
Super Super Rares
...
Ultra Rares
...
Side Stories
...
Quotes
Home Screen
...
Tapping the Character
...
Other Screens
...
Event-Triggered
...
Date-Triggered
...
Cameos
...