Uehara Ayumu
From Love Live! School Idol Festival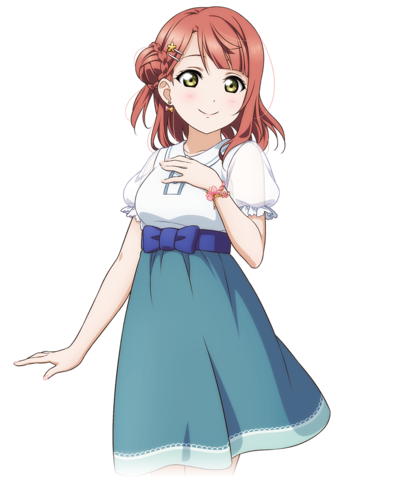 Character Profile
Japanese Name: 上原 歩夢
Grade: 2nd Year
Birthday: March 1 (Pisces)
Blood Type: A
Height: 159cm
Three Sizes: B82 / W58 / H84
Main Attribute:

Pure

CV: Oonishi Aguri

A second-year student at Nijigasaki High School. She is a hardworking person who tackles things with a level head one step at a time, and was invited to become a school idol.
Cards
Rares
...
Super Rares
Uehara Ayumu [Super Rare #1472]

Max Level: 80

HP: 4

2580

4190

2880


Appeal: Rhythmical Charm
For every 17 hit combo string, there is a 36% chance of increasing player's score by 200 points. (Level 1)




---


Center Skill: Pure Heart
Increases Pure points by 6%.



Above: Special login bonus and available in Seal Shop during March 2018 in celebration of the Nijigasaki High School Idol Club's regular program on Abema TV.
Super Super Rares
...
Ultra Rares
...
Side Stories
Greetings (SR)
Ayumu: Nice to meet you. I'm a sophomore at Nijigasaki High, Ayumu Uehara.


Ayumu: I-I'm sorry... I'm really nervous.


Ayumu: Can I pause and take a deep breath? *Inhale* Phew...


Ayumu: There, I'm all calmed down now. Look at me, getting nervous over a little introduction. *Giggle*


Ayumu: Umm... I became a school idol because my childhood friend and I want to make our dream come true.


Ayumu: I still can't believe a talentless girl like me is aiming to be a school idol.


Ayumu: But when I see my friend being so positive and proactive about making that dream come true, I can't help but be motivated to work hard, too.


Ayumu: I'm still no good at singing and dancing, so I need lots and lots of practice. I'm nowhere near the senior girls in the club yet.


Ayumu: I understand that it's a very lofty goal. But I'm still going to keep walking forward. As long as I do that, I believe I'll get closer to them, one spet at a time.


Ayumu: I hope everyone will dream big with me!
Quotes
Home Screen
I attend Nijigasaki High because the uniforms are adorable and it's close to home!
Together... our dreams can come true! We just need to walk forward, one step at a time.
I want you to always be watching me, so you can tell me if I'm truly progressing. Always. Okay?
Sorry... No dice.
I'm going to do my best to become the ideal school idol.
With everyone at my side, I feel like I can conquer the world!
I want to share my dream with as many people as possible.
Today's Live Show is going to be amazing. Make sure you come!
Tapping the Character
Hmm? What's up?
Hey, that tickles!
Other Screens
Why don't you read a Story? (Story Screen)
What should we do next? (Team Members Screen)
Event-Triggered
A-A Goal? Let's go for it! (When there are unfinished Goals)
Date-Triggered
...
Cameos
...