Yuuki Setsuna
From Love Live! School Idol Festival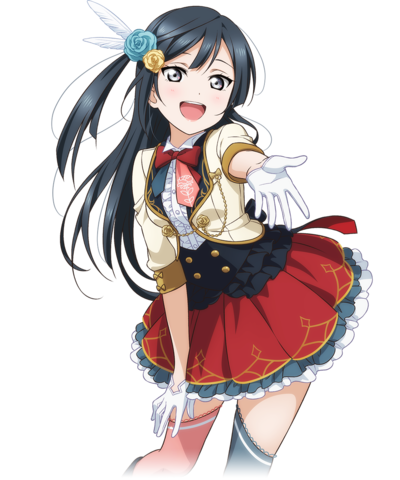 Character Profile
Japanese Name: 優木せつ菜
Grade: 2nd Year
Birthday: August 8 (Leo)
Blood Type: O
Height: 154cm
Three Sizes: B83 / W56 / H81
Main Attribute:

Cool

CV: Kusunoki Tomori

A second-year student at Nijigasaki High School. There are high hopes of her, as she's gained attention from other schools. Her distinctive qualities are her energetic smile and performances. Perhaps because she's so busy with school idol work, there is a rumor going around that many people have never seen her at the school before.
Cards
Rares
...
Super Rares
Yuuki Setsuna [Super Rare #1474]

Max Level: 80

HP: 4

2540

2880

4230


Appeal: Total Trick
For every 20 notes, there is a 36% chance of turning all greats in the next 2 seconds into perfects. (Level 1)




---


Center Skill: Cool Heart
Increases Cool points by 6%.



Above: Special login bonus and available in Seal Shop during March 2018 in celebration of the Nijigasaki High School Idol Club's regular program on Abema TV.
Super Super Rares
Yuuki Setsuna [Super Super Rare #1636]

This card comes pre‑transformed.
Max Level: 90

HP: 5

3030

4330

4920


Appeal: I want to Deliver Glitter
For every 19 perfects, there is a 24% chance of increasing players score by 560 points. (Level 1)




---


Center Skill: Cool Star
Cool increases (+7%).



Above: Special login bonus in celebration of the SIF 5th anniversary livestream.
Ultra Rares
Side Stories
Greetings (SR)
Setsuna: Nice to meet you! I'm a sophomore at Nijigasaki High, Setsuna Yuki!


Setsuna: I love school idols and everything about them.


Setsuna: You can tell that school idols and the people who support them are positively overflowing with feelings of love!


Setsuna: They openly talk about who and what they love.


Setsuna: It's a wonderful, joyous world where everyone sparkles, has fun, and can be totally free to express herself honestly.


Setsuna: That's the way it should be everywhere. Sadly, in today's world, it's not as easy as it sounds.


Setsuna: That's why I became a school idol myself. I want to expand this wonderful world that's overflowing with love as far as I can!


Setsuna: Until one day, we've made a world where everyone can openly declare her love. That's the world I want to live in!


Setsuna: That's my ambition. Will you help me achieve it?


Setsuna: Being with such an amazing group makes me feel really confident. I'm counting on you, too!
Quotes
Home Screen
*Sigh* I can just feel the love bubbling up inside me. I wanna do a live show right now!
Being surrounded by love is so wonderful... I feel warm and fuzzy all over!
I can feel the love coming from everyone. I want to hear more of their voices!
There's always next time!
Tapping the Character
Can I help you?
Trying to psyche me up?
Other Screens
Look at these unread Stories! (Story Screen)
Join me, and we'll share in the greatest dreams! (Team Members Screen)
Event-Triggered
A Goal? Another wall to conquer! I'm raring to go! (When you have unfinished Goals)
Special Practice? I can't wait! (When you have members able to be Idolized)
Date-Triggered
...
Cameos
...