μ's水着コンテスト。
From Love Live! School Idol Festival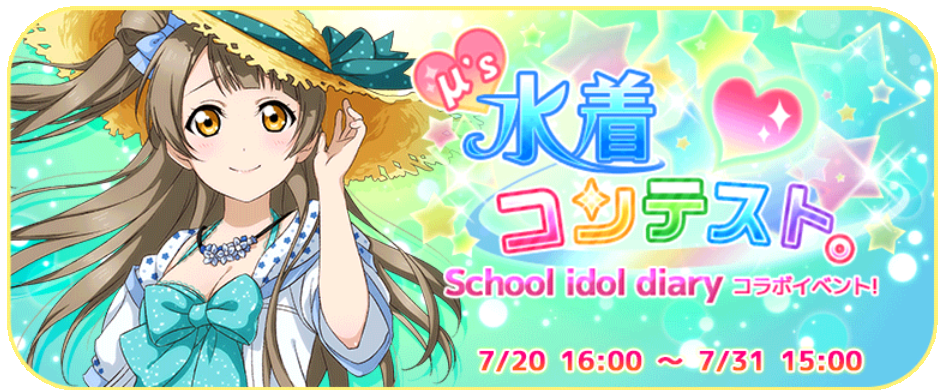 Event Name: μ's水着コンテスト。
Event Name (Romaji): μ's Mizugi Contest.
Event Name (English): μ's Swimsuit Contest.
Event Period: July 20, 2014, 4PM JST - July 31, 2014, 3PM JST
Token:
Event Live: ぶる~べりぃ♡とれいん
Main Event Prize:

SR Kotori
Event Song Note Distribution
Note: See Unit Formation for more details
| ぶる~べりぃ♡とれいん | A | B | C | D | E | F | G | H | I |
| --- | --- | --- | --- | --- | --- | --- | --- | --- | --- |
| Total Notes: 299 | 35 | 34 | 42 | 36.25 | 12 | 35 | 40 | 34.5 | 37 |
Event Cards
Aizawa Yuu [Normal #368]

Max Level: 40

HP: 4

490

1560

670


Appeal: None




---


Center Skill: None



Minami Kotori (Swimsuit Ver.) [Super Rare #369]

Max Level: 80

HP: 4

3820

4640

3620


Appeal: Summer Water Girl
For every 23 perfects, there is a 25% chance of increasing player's score by 525 points. (Level 1)




---


Center Skill: Pure Heart
Increases Pure points by 6%.



Event Scenarios
Chapter 1
Kotori: (Summer vacation is almost over. This is the first long vacation we've had since μ's was formed, and we've spent the entire time practicing.)
Kotori: (Our motto has been, "For a summer live show!!")
Kotori: (We've been meeting up whenever we have time, whether it's on the weekdays or weekends...)
Kotori: (We come up with ideas for choreography and stage setup, as well as design outfits and accessories - everyone's really working hard. ♡)
Kotori: (That's why I want to give everyone a "Summer's Hard Workers Prize ♡".)
Kotori: (Oh, maybe I can make matching mascots for everyone? Or have a tea party with homemade cakes and cookies?)
Kotori: (I head to our morning practice as I think of ideas...)
Kotori: (Huh? There's a message from the shopping district posted on the bulletin board. I wonder what it is? "Summer Festival Swimsuit Contest Exhibition"...)
Chapter 2 - Unlocked at 500 points
Kotori: (Ah, this is a notice for the stage event held at the shopping district's annual summer festival.)
Kotori: (I see, so this year they're having a swimsuit contest. ♡ Hehe. ♪)
Kotori: ("You too can be one of summer's heroines!" It sounds a bit like the idols of the past. ♪)
Kotori: (I notice something as I'm thinking about it. Upon reading the rest of the poster... uwaa... this... this is great!)
Kotori: (The prizes for the swimsuit contest are things like a big widescreen TV or a day trip, and the third place prize is a ¥50,000 gift certificate!!!!)
Kotori: (If we had ¥50,000 right now...)
Kotori: (We wouldn't have to worry about our summer show budget at all! That means we can use any materials we want for the new outfits, and the skirts can have twice as many pleats. ♪)
Kotori: (I'll be able to add the lace frills that I originally gave up on due to costs, and use bi-color satin for the skirt lining...)
Kotori: (My mind and my heart are racing with excitement! ♡ Ideas are suddenly popping up in my head. I'll have to ask someone about this. ♪)
Chapter 3 - Unlocked at 2,000 points
Kotori: Hey, Maki-chan. You said before that μ's was in a financial pinch, right? Is that true?
Maki: Yeah... We don't get any club funding from the school, so everyone has been contributing from their own pockets, and we have to spend carefully. To put it bluntly, we're always poor...
Maki: Or well, rather than being poor, we're completely broke thanks to this summer live.
Kotori: So it really is true. In that case, what would we do for our next live?
Maki: I think it'll be impossible for a while... Well, there's nothing we can do but give it some time and continue pooling our funds bit by bit.
Kotori: I see... But everyone shows up to practice daily, and we get hungry there, so there are food expenses too. It really is rough, huh?
Maki: Hmm, yeah... Live shows have a lot of associated expenses like equipment and posters, so we'll have to stick to cost-free activities for a while.
Kotori: That's a shame considering how hard we've all worked...
Maki: Oh, but Kotori-chan, make sure you don't go spending all of your own money, okay? You said you wanted to upgrade our outfits, didn't you?
Kotori: Ah, yeah. Eli-chan told me that since being a school idol is a school activity, no one is allowed to take on all of the burden alone.
Maki: That's right. You've already been supplying the most drinks and snacks, and you even do the cleaning as well as costume repairs and storage...
Maki: You do all of this bothersome work by yourself without telling anyone about it, but I already know, okay? I don't think that's right, either.
Kotori: But, that's because there are a lot of things that you and Eli-chan handle that I can't.
Kotori: And unlike Honoka-chan and Umi-chan, I don't have any responsibilities to take care of at home, so I thought I could at least help here...
Maki: I like that side of you, but you really shouldn't think of doing things on your own. μ's is a nine-member unit, after all.
Kotori: Okay... Oh, that's right! That's why I had something I wanted to ask you, Maki-chan...
Chapter 4 - Unlocked at 6,000 points
Eli: Hmm, I'm kind of hesitant about entering a swimsuit contest... but ¥50,000 is certainly a lot.
Honoka: And since it's a local festival, we could use it as publicity for μ's. ♪
Eli: Yes, and Kotori always works so hard on our outfits, so I'd like it if sometimes she could design to her heart's content without worrying about the budget. ♡
Maki: So our entry is decided?
Kotori: Ah, I just wanted to help everyone out; it's not like I'm into things like this... ♡
Eli: Hehe, I can see your passion for clothes just by watching you. ♡ Just the other day you were arguing with Umi because she wanted the skirt to be 2 cm longer...
Umi: I'm a bit concerned about Kotori being able to design to her heart's content. Just what kinds of outfits is she thinking about? I'm sure the skirts will be really short...
Nico: Oh! Oh oh oh! Then I'll be the first to enter that swimsuit contest!!!
Nozomi: Ehh~ Would you be able to win? Nico-cchi's swimsuit figure would only appeal to a very niche group of people--
Nico: Wh-What!? That's not true!! If anything, big breasts like yours would just make everyone feel uncomfortable. Right, Eli-chan?
Eli: Me? Is that supposed to be sarcasm?
Nico: Ah, s-sorry ~nico, that's not what I meant...
Maki: I'm definitely not entering!
Umi: Me neither!
Hanayo: I definitely don't think I can do it... I'm chubby like a baby, so I can't wear a bikini...
Nozomi: So the remaining three candidates are Honoka-chan, Rin-chan, and Kotori-chan.
Maki: Then it's an obvious choice, right?
Eli: Indeed.
Kotori: Wh-Whaaaat!? M-Me!?!?!?
Chapter 5 - Unlocked at 11,000 points
Nico: Ahh, it was a tactical mistake to have Kotori-chan representing μ's after all ~nico. Just like I said, this wouldn't have happened if we sent me instead.
Kotori: I'm sorry, everyone. It's all my fault...
Maki: It's not something you have to apologize for, Kotori-chan.
Honoka: That's right! At any rate, getting first place is amazing~! You really are adorable, Kotori-chan. ♪
Umi: Winning in a swimsuit contest is really something special. You were splendid, Kotori. ♡
Rin: Yeah! You were the cutest one of all, Kotori-chan~☆ And in the end, I'm really glad we won the prize, even though it's not what we were aiming for~
Nico: And then there's Hanayo-chan, who's carrying the first place prize, the newest type of electric rice cooker...
Hanayo: Yes! ♡ This is truly great! I'll cook delicious rice in the club room every day with this! ♪
Maki: Still... Who would've thought the top prize would be a high class rice cooker? I think they cost about ¥100,000 nowadays...
Rin: Uwaaaah, I don't want to eat rice balls every day~! I want to eat ramen sometimes, too!!
Kotori: Rin-chan... ♡
Kotori: (Everyone laughs at Rin's exaggerated lament, and the swimsuit contest day comes to an end.)
Kotori: (It... didn't really go as expected, but in a way, I feel like the results were fitting of μ's. ♡)
Kotori: (Our summer vacation is almost over. Next up will be a delicious season thanks to Hanayo-chan's beloved white rice, right? ♪)
Event Point Awards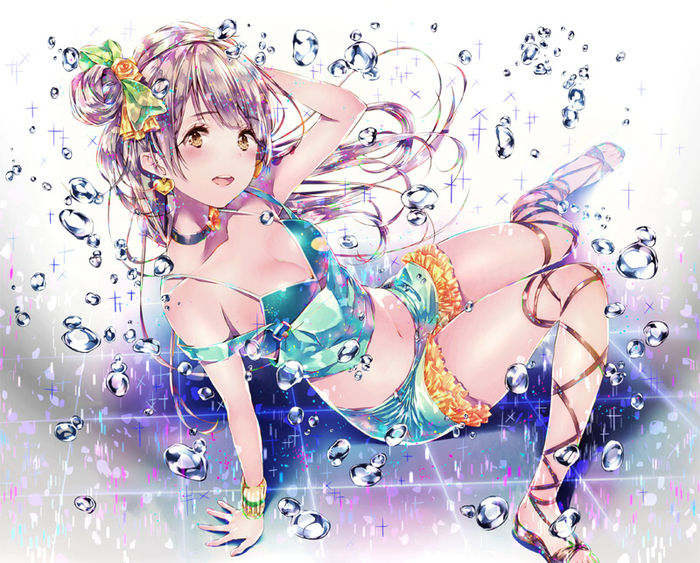 | Points Achieved | Reward |
| --- | --- |
| 10 pts | 5000 G |
| 50 pts | 100 Friend Points |
| 200 pts | 1 Loveca Stone |
| 500 pts | 5000 G |
| 1000 pts | 1 Loveca Stone |
| 1500 pts | 200 Friend Points |
| 2000 pts | Aizawa Yuu (Pure) |
| 3000 pts | 10000 G |
| 4000 pts | 1 Loveca Stone |
| 5000 pts | 15000 G |
| 6000 pts | R Alpaca |
| 7000 pts | 300 Friend Points |
| 8000 pts | R Yamauchi Nanako |
| 9000 pts | 20000 G |
| 10000 pts | 400 Friend Points |
| 11000 pts | SR Kotori x1 |
| 12000 pts | 500 Friend Points |
| 13000 pts | 25000 G |
| 14000 pts | 500 Friend Points |
| 15000 pts | 1 Loveca Stone |
| 16000 pts | 30000 G |
| 17000 pts | 750 Friend Points |
| 18000 pts | 1 Loveca Stone |
| 19000 pts | 40000 G |
| 20000 pts | 750 Friend Points |
| 21000 pts | 1 Loveca Stone |
| 22000 pts | 50000 G |
| 23000 pts | 1000 Friend Points |
| 24000 pts | 60000 G |
| 25000 pts | 2 Loveca Stones |
| 27500 pts | 1000 Friend Points |
| 30000 pts | 2 Loveca Stones |
| 35000 pts | 3 Loveca Stones |
Event Point Ranking Awards
Event Rank
Reward
1st - 7000th

SR Kotori x2

7001st - 35000th

SR Kotori x1

35001st - 84000th
R Sasahara Kyouko

1 Ticket

84001st - 175000th
1 Ticket
175001st - 315000th
3 Loveca Stones
315001st - 490000th
2 Loveca Stones
490001st - 700000th
1 Loveca Stone
Event Song Ranking Awards