ここだけの話。
From Love Live! School Idol Festival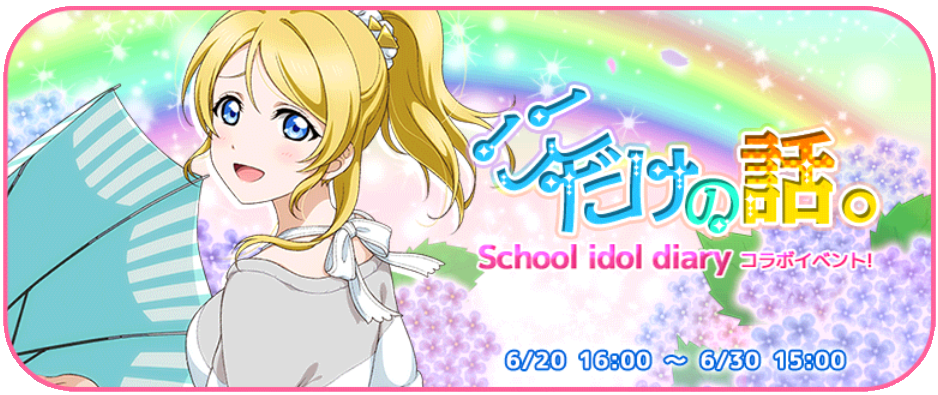 Event Name: ここだけの話。
Event Name (Romaji): Koko dake no Hanashi.
Event Name (English): This is Just Between Us.
Event Period: June 20, 2014, 4PM JST - June 30, 2014, 3PM JST
Token:
Event Live: ありふれた悲しみの果て
Main Event Prize:

SR Eli
Event Song Note Distribution
Note: See Unit Formation for more details
| ありふれた悲しみの果て | A | B | C | D | E | F | G | H | I |
| --- | --- | --- | --- | --- | --- | --- | --- | --- | --- |
| Total Notes: 201 | 23.25 | 22.5 | 25 | 27.75 | 12.25 | 26.25 | 26.25 | 22.75 | 24.5 |
Event Cards
Kurobane Sakuya [Normal #349]

Max Level: 40

HP: 2

2200

980

510


Appeal: None




---


Center Skill: None



Ayase Eli (Rain Shower Ver.) [Super Rare #350]

Max Level: 80

HP: 4

3790

3630

4660


Appeal: Time Together With You
For every 20 perfects, there is a 31% chance of increasing player's score by 380 points. (Level 1)




---


Center Skill: Cool Heart
Increases Cool points by 6%.



Event Scenarios
Chapter 1
Eli: (Oh my~!)
Eli: (That's... Umi, right? Today's classes are over now, so why is she standing in the hallway, looking troubled...?)
Eli: (She's with a cute little girl - probably a first-year.)
Eli: (The girl is holding out a pretty blue envelope-- Ah. She ran away at full sprint.)
Eli: Was that a confession of love!?
Umi: Wh-- Eli...!!
Eli: It's me~ ♪
Umi: Were you watching the entire time!?
Eli: I-It's not like I was spying on you or anything. I just happened to pass by on the way to the student council office...
Umi: So it was a coincidence?
Eli: Yep, a total coincidence. I just happened to witness it.
Umi: ...So you saw that, huh? Please don't tell anyone about this, though. If Honoka and Kotori find out, they'll definitely tease me.
Eli: Of course, I won't tell a soul. Our school's most dignified marital artist, Umi-chan-senpai, totally didn't go red in the face upon an underclassman's declaration of love. ♪
Umi: M-My face wasn't that red...!
Eli: See? What a cute red face, Umi-chan. Now I know why your underclassmen are all over you. ♪
Chapter 2 - Unlocked at 500 points
Eli: I've heard the rumors, but Umi-chan, you're really that popular, huh? How many love letters have you received this year?
Umi: I-I wouldn't say they're love letters... and it's not like I count them, either!!
Eli: Huh~? But doesn't that say, "You have to reply! I'll be waiting for you." on it? What will your reply be? I want to know ~
Umi: My reply is...
Eli: What will it be?
Umi: It's... I-I'm not writing one.
Eli: What~!? Why not!? Why isn't the well-mannered Umi-chan writing a reply to a letter she's received!?
Umi: ...
Eli: If I was the sender, I would be expecting a reply letter written in beautiful calligraphy on a scroll of parchment.
Eli: Something like, "I'm in love with Honoka-dono." A samurai-style one-sentence message. It's blunt, but if a handsome man says it then it'll make their heart skip a beat-- Well, that kind of thing only happens in fantasies. ♪
Umi: ...Can we stop? I'm really bad with this stuff...
Chapter 3 - Unlocked at 2,000 points
Umi: Besides, when I first started getting them, I didn't realize that they were l-love letters, so I just replied normally.
Eli: So when someone wrote to you, "I love you Umi-senpai. Please become my older sister!"...
Umi: I replied with "Yes, I'd be glad to," or "If you're fine with someone like me, then..."
Eli: *laughs* Th-That's...
Umi: I mean, at first I thought they were just saying "Let's get along" out of respect for their senior. I didn't have any reason to refuse.
Eli: Hahaha-- Umi, you're way too serious. ♪ But if that was the case, weren't there complications?
Umi: Yes. It was truly a headache. They'd bring me handmade lunches every day, or wait at the school entrance for me before and after school...
Eli: So what happened in the end?
Umi: Some time later, they found out that each of them had received a reply like that, and interrogated me, asking "Umi-senpai, which one of us do you really love!?"
Eli: Ahaha! Even if they ask you that, there's no use, huh? This is more hilarious than I'd ever imagined; my eyes are tearing up!
Umi: You're laughing too much, Eli...
Eli: So is that why you don't reply to the love letters anymore?
Umi: Yes...
Eli: That's a bit of a waste, though...
Chapter 4 - Unlocked at 6,000 points
Eli: Ahh, that was fun. Thanks for telling me that amusing story today, Umi. ♪ We reached the first floor while you were talking, so I'll be going to the student council office now.
Umi: Ah, could you come to practice earlier? We won't be able to work on our formation unless everyone is present.
Eli: I know. ♪ I was one of the last members to join μ's, so of course I intend on working hard to catch up. It's just that there's still some student council work left...
Umi: ...
Eli: Now now, don't look so worried. ♪ It's not like I still feel as bound to the student council as I used to. It's just that unlike you who's serious and devoted, I'm more of a two-timer.
Umi: ...We'll be waiting for you.
Eli: Oh, I've got it! Hey Umi, as thanks for telling me such a fun story, I'll show you how to write a good response to that love letter you got just now.
Umi: Huh?
Eli: Okay? Write it like this: "Thank you for telling me your feelings. However, I already have someone I love more than anyone else in the world. That would be my beloved childhood friend, Ko-u-sa-ka Ho---"
Umi: U-Uwaaaaaaaa!!!!
Chapter 5 - Unlocked at 11,000 points
Umi: G-Geez, what are you saying, Eli... That would just cause another weird misunderstanding...
Eli: But isn't it the truth? Don't worry, I'm sure your underclassman will understand. She'll be like, "I'm no match for Honoka-senpai! I wish you happiness!"
Umi: ...So, this is how you write them, Eli?
Eli: Huh?
Umi: I've heard all about it from Nico. Since you're the student council president, you're actually really popular with the younger students, and they've brought you love letters before...
Eli: Ah! That's...
Umi: So that means you write responses like that too, right? "Sorry, I already have someone very important to me. That would be my classmate, Toujou No---"
Eli: Uwaaaaaaaaa...! Wh-What are you saying...
Umi: See, you're just like me. *giggles* ♪
Eli: ...I really am. Ahh... being in an all-girls school is tough!
Umi: Indeed. It's tough... in odd ways.
Eli: Let's part ways for now then, so that we at least won't end up the subjects of another rumor ourselves. ♪ I'll see you at practice, okay?
Umi: Okay!
Event Point Awards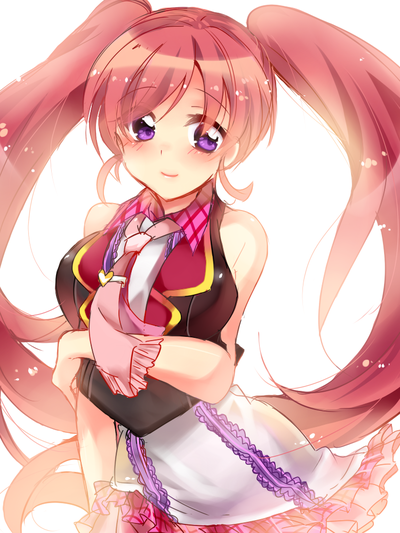 | Points Achieved | Reward |
| --- | --- |
| 10 pts | 5000 G |
| 50 pts | 100 Friend Points |
| 200 pts | 1 Loveca Stone |
| 500 pts | 5000 G |
| 1000 pts | 1 Loveca Stone |
| 1500 pts | 200 Friend Points |
| 2000 pts | Kurobane Sakuya (Smile) |
| 3000 pts | 10000 G |
| 4000 pts | 1 Loveca Stone |
| 5000 pts | 15000 G |
| 6000 pts | R Alpaca |
| 7000 pts | 300 Friend Points |
| 8000 pts | R Sasahara Kyouko |
| 9000 pts | 20000 G |
| 10000 pts | 400 Friend Points |
| 11000 pts | SR Eli x1 |
| 12000 pts | 500 Friend Points |
| 13000 pts | 25000 G |
| 14000 pts | 500 Friend Points |
| 15000 pts | 1 Loveca Stone |
| 16000 pts | 30000 G |
| 17000 pts | 750 Friend Points |
| 18000 pts | 1 Loveca Stone |
| 19000 pts | 40000 G |
| 20000 pts | 750 Friend Points |
| 21000 pts | 1 Loveca Stone |
| 22000 pts | 50000 G |
| 23000 pts | 1000 Friend Points |
| 24000 pts | 60000 G |
| 25000 pts | 2 Loveca Stones |
| 27500 pts | 1000 Friend Points |
| 30000 pts | 2 Loveca Stones |
| 35000 pts | 3 Loveca Stones |
Event Point Ranking Awards
Event Rank
Reward
1st - 6500th

SR Eli x2

6501st - 32500th

SR Eli x1

32501st - 78000th
R Yamauchi Nanako

1 Ticket

78001st - 162500th
1 Ticket
162501st - 292500th
3 Loveca Stones
292501st - 455000th
2 Loveca Stones
455001st - 650000th
1 Loveca Stone
Event Song Ranking Awards