さかなかなんだか?
From Love Live! School Idol Festival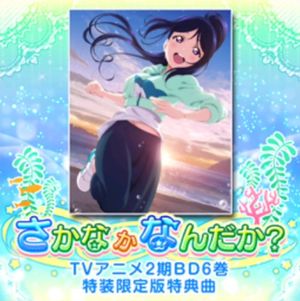 Title (romaji): Sakana ka Nandaka?
Title (English): A Fish or Something Else?
Title (Simplified Chinese): 是鱼还是果南?
Stage Attribute: PURE
How to Obtain: Clear Chapter 33, Part 1 of the Aqours story (Clear 82 Aqours assignments).
Note: Originally a special song from 2018/05/15 - 2018/06/05.
Info
Compose: Shitara Tetsuya
Arrange: Shitara Tetsuya
Lyrics: Hata Aki
Featured song on Love Live! Sunshine!! S2 Original Song CD 6, included with the limited edition Blu-ray volume 6 of the Love Live! Sunshine!! anime's second season, released on May 25, 2018. The song is sung by Matsuura Kanan.
Easy
Stage Level:

★

Required LP: 5
EXP Gained: 12
C Rank
B Rank
A Rank
S Rank
SCORE
9400 pts
500 G
23500 pts
900 G
28200 pts
1500 G
32900 pts
2500 G
COMBO
29 Combo
250 G
47 Combo
500 G
66 Combo
750 G
94 Combo
1250 G
CLEAR
1 Time
25 FP
5 Times
50 FP
10 Times
75 FP
20 Times
100 FP
Normal
Stage Level:

★★★

★★★

Required LP: 10
EXP Gained: 26
C Rank
B Rank
A Rank
S Rank
SCORE
27720 pts
1500 G
69300 pts
2500 G
83160 pts
5000 G
97020 pts
7500 G
COMBO
63 Combo
1000 G
105 Combo
1500 G
147 Combo
2000 G
210 Combo
3000 G
CLEAR
5 Times
100 FP
10 Times
150 FP
20 Times
200 FP
40 Times
300 FP
Hard
Stage Level:

★★★

★★★

★★

Required LP: 15
EXP Gained: 46
Replay: YouTube Niconico
C Rank
B Rank
A Rank
S Rank
SCORE
56780 pts
5000 G
141950 pts
8000 G
170340 pts
12000 G
198730 pts
1000 FP
COMBO
101 Combo
4000 G
167 Combo
7000 G
234 Combo
10000 G
334 Combo
1000 FP
CLEAR
10 Times
300 FP
20 Times
500 FP
40 Times
700 FP
100 Times
1 LS
Expert
C Rank
B Rank
A Rank
S Rank
SCORE
104656 pts
5000 G
261888 pts
8000 G
313968 pts
12000 G
366544 pts
1000 FP
COMBO
149 Combo
7000 G
248 Combo
10000 G
348 Combo
500 FP
496 Combo
1 LS
CLEAR
15 Times
300 FP
30 Times
500 FP
60 Times
1000 FP
120 Times
1 LS
Note Distributions
See Unit Formation for more information
| さかなかなんだか? | A | B | C | D | E | F | G | H | I |
| --- | --- | --- | --- | --- | --- | --- | --- | --- | --- |
| Easy | 10.75 | 10.75 | 15 | 9.25 | 10.5 | 8.25 | 15 | 10.75 | 9.75 |
| Normal | 27 | 23.75 | 30.25 | 15.75 | 17 | 18 | 32.25 | 27 | 28 |
| Hard | 45 | 32.25 | 47.5 | 44 | 17.25 | 43 | 47.5 | 32.5 | 43.25 |
| Expert | 56 | 67.25 | 65 | 52.75 | 27.5 | 54.75 | 64.75 | 68.25 | 56.25 |