さようならへさよなら!
From Love Live! School Idol Festival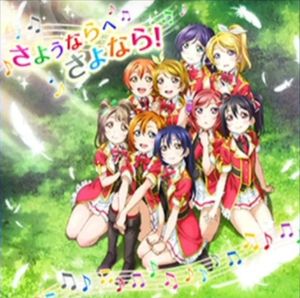 Title (romaji): Sayounara e Sayonara!
Title (English): Goodbye to Goodbyes!
Title (Simplified Chinese): 再会了再见!
Stage Attribute: PURE
How to Obtain: Clear Chapter 41, Part 1 of the main story (Rank 141).
Info
Compose: Masutani Ken
Arrange: Masutani Ken
Lyrics: Hata Aki
Second track on the MOMENT RING single, released on March 2, 2016.
Easy
Stage Level:

★★

Required LP: 5
EXP Gained: 12
C Rank
B Rank
A Rank
S Rank
SCORE
9500 pts
500 G
23750 pts
900 G
28500 pts
1500 G
33250 pts
2500 G
COMBO
29 Combo
250 G
48 Combo
500 G
67 Combo
750 G
95 Combo
1250 G
CLEAR
1 Time
25 FP
5 Times
50 FP
10 Times
75 FP
20 Times
100 FP
Normal
Stage Level:

★★★

★★

Required LP: 10
EXP Gained: 26
C Rank
B Rank
A Rank
S Rank
SCORE
22044 pts
1500 G
55110 pts
2500 G
66132 pts
5000 G
77154 pts
7500 G
COMBO
51 Combo
1000 G
84 Combo
1500 G
117 Combo
2000 G
167 Combo
3000 G
CLEAR
5 Times
100 FP
10 Times
150 FP
20 Times
200 FP
40 Times
300 FP
Hard
Stage Level:

★★★

★★★

★★

Required LP: 15
EXP Gained: 46
Replay: YouTube Niconico
C Rank
B Rank
A Rank
S Rank
SCORE
58480 pts
5000 G
146200 pts
8000 G
175440 pts
12000 G
204680 pts
1000 FP
COMBO
104 Combo
4000 G
172 Combo
7000 G
241 Combo
10000 G
344 Combo
1000 FP
CLEAR
10 Times
300 FP
20 Times
500 FP
40 Times
700 FP
100 Times
1 LS
Expert
C Rank
B Rank
A Rank
S Rank
SCORE
95372 pts
5000 G
238656 pts
8000 G
286116 pts
12000 G
334028 pts
1000 FP
COMBO
136 Combo
7000 G
226 Combo
10000 G
317 Combo
500 FP
452 Combo
1 LS
CLEAR
15 Times
300 FP
30 Times
500 FP
60 Times
1000 FP
120 Times
1 LS
Master
Stage Level:

★★★

★★★

★★★

★★

Required LP: 25
EXP Gained: 83
Replay: YouTube [ Niconico]
C Rank
B Rank
A Rank
S Rank
SCORE
142636 pts
10000 G
356928 pts
500 FP
427908 pts
1 LS
499564 pts
1 LS
COMBO
238 Combo
10000 G
396 Combo
500 FP
554 Combo
1 LS
791 Combo
1 LS
CLEAR
15 Times
500 FP
30 Times
1000 FP
60 Times
1 LS
150 Times
1 LS
Note Distributions
See Unit Formation for more information
| さようならへさよなら! | A | B | C | D | E | F | G | H | I |
| --- | --- | --- | --- | --- | --- | --- | --- | --- | --- |
| Easy | 9 | 13 | 15.25 | 6.25 | 8.25 | 8.25 | 14.25 | 13 | 9 |
| Normal | 14.75 | 30.25 | 24.25 | 14.25 | 8 | 13.25 | 23 | 28.25 | 15.75 |
| Hard | 37.5 | 43.5 | 47 | 36.5 | 19 | 37.5 | 51.25 | 41.25 | 35.5 |
| Expert | 50.75 | 62.25 | 61.5 | 50.25 | 22 | 50 | 57.5 | 59.25 | 50 |
| Master | 64 | 88 | 88.25 | 85.5 | 36 | 84.75 | 85.25 | 85 | 66 |