どうしておなかがすくのかな?
From Love Live! School Idol Festival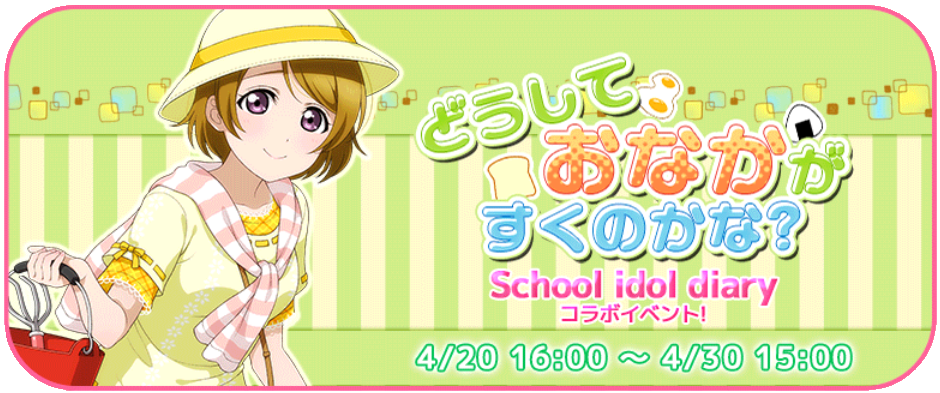 Event Name: どうしておなかがすくのかな?
Event Name (Romaji): Doushite Onaka ga Suku no kana?
Event Name (English): Why Do I Feel Hungry?
Event Period: April 20, 2014, 4PM JST - April 30, 2014, 3PM JST
Token:
Event Live: 孤独なHeaven
Main Event Prize:

SR Hanayo
Event Song Note Distribution
Note: See Unit Formation for more details
| 孤独なHeaven | A | B | C | D | E | F | G | H | I |
| --- | --- | --- | --- | --- | --- | --- | --- | --- | --- |
| Total Notes: 394 | 45.25 | 45 | 48 | 49.5 | 29 | 48.25 | 49 | 45.25 | 47.5 |
Event Cards
Leo [Normal #297]

Max Level: 40

HP: 2

1000

720

2370


Appeal: None




---


Center Skill: None



Koizumi Hanayo (Clam Digging Ver.) [Super Rare #308]

Max Level: 80

HP: 4

3610

4680

3790


Appeal: Rice and Miso Soup
For every 24 notes, there is a 36% chance of turning all goods and greats in the next 3 seconds into perfects. (Level 1)




---


Center Skill: Pure Heart
Increases Pure points by 6%.



Event Scenarios
Chapter 1
Hanayo: (Ughhhhhh...)
Hanayo: (Huh? What was that?)
Hanayo: (A-An earthquake-like sound just came out from my body!)
Hanayo: (It's still the first class of the day, English...)
Hanayo: (Ughhhhhh...)
Hanayo: (Ahhhhhh, what should I do...? My stomach is rumbling!)
Hanayo: (I know my face is turning bright red, but...)
Hanayo: (I'm panicking while trying to keep my stomach in check!)
Hanayo: (Please, stomach, don't make any more noise!)
Hanayo: (It'll be too embarrassing if everyone else hears...!)
Hanayo: (Ughhhhhh...)
Hanayo: (Ahhhh, I can't take it anymore!)
Rin: What's wrong, Kayo-chin? Does your stomach hurt?
Hanayo: (Ahhhhh, Rin-chan, what should I do...?)
Hanayo: (I ate breakfast this morning, but my stomach is already empty~!)
Chapter 2 - Unlocked at 500 points
Rin: Kayo-chin, you always pack rice balls for lunch, huh?
Hanayo: Yeah. I love seaweed and roe, after all.
Hanayo: Ah, stop that~ Even if you hold out your hands like that, I won't give you any~!
Rin: Ehehehe☆ Rice balls are small, so it's easy to eat them before lunch!
Rin: Maybe I should bring rice balls tomorrow, too~
Hanayo: It's not like I brought them because I wanted to eat them before lunch... I just didn't have any choice because my stomach was growling...
Rin: In that case, since I can't have the rice balls, I'll have this instead~! ☆
Rin: ... ✕△✕!?
Hanayo: Ah, those are the dried plums my grandma pickled for me - they're ten times more sour than normal ones...!
Rin: Y-You should've said so earlier~ I need water!
Hanayo: I-I'm sorry, Rin-chan!
Hanayo: I'm always so slow and stupid...
Hanayo: (Hanayo thinks to herself as she looks up at the blue sky, eating her lunch early after only the first class of the day.)
Hanayo: (Ahh, I'm full. I hope my stomach won't growl anymore~)
Chapter 3 - Unlocked at 2,000 points
Honoka: So me, Kotori-chan, Maki-chan, and Hanayo-chan will go to buy refreshments.
Rin: What~ I want to go, too~! I'll carry stuff for you~☆
Nico: Leave the sweets to me~ I'll tell you what the popular recommendations are these days~♪
Maki: We're just buying snacks during our break... Do we really need so many people?
Rin: But it's fun to buy lots of candy~!
Maki: It's not like we're having a party... It's just that Hanayo ate her lunch early and now she's hungry again.
Hanayo: I-I'm sorry... Even though you all shared a bit of your food with me, it still isn't enough...
Kotori: Well, it's fine. We don't usually take a break together like this, so let's have fun, okay?
Kotori: What would you like, Maki-chan?
Maki: Hmm, I'm fond of almond caramel fudge.
Maki: I want the British kind with the fancy tin!
Chapter 4 - Unlocked at 6,000 points
Hanayo: (After that, we all thought about my growling stomach together while eating snacks.)
Maki: Doesn't this just mean that you should eat more for breakfast?
Hanayo: I thought so too, but I do eat a lot of rice. This morning, I kept eating right until Rin-chan came to greet me.
Maki: That's it! I bet Rin was rushing you to leave faster. Rin, if you keep doing that, Hanayo is going to lose weight.
Rin: Huh? But Kayo-chin even had a second serving this morning. Right, Kayo-chin?
Hanayo: Y-Yeah... Rice with furikake tastes good.
Umi: So even though you had two servings in the morning, your stomach was growling before the first class even ended? That's amazing.
Hanayo: Ahhhh, what should I do!? There must be something wrong with me...
Nozomi: Well, even though you're still a first year student, you eat the most out of all of us.
Nico: If she didn't eat that much, she wouldn't have that perfect bust!
Maki: Anyway, the reason why your stomach growls is because it's trying to digest something that isn't there. So you'll have to give it something.
Honoka: Ahh~ In that case, I'll bring you our leftover manjuu every day!
Honoka: Umi-chan and Maki-chan don't like them because there's too much red bean paste, but feel free to have them!
Hanayo: H-Honoka-chan...
Chapter 5 - Unlocked at 11,000 points
Hanayo: (That night, I went home and ate some freshly cooked rice. It was piping hot and absolutely delicious!)
Hanayo: (I think that of all the things in the world, what goes best with fresh rice is some slightly strong soy sauce and boiled konbu♪ It's been my favourite food since I was a child!)
Hanayo: (But still, why do I always feel so hungry?)
Hanayo: (Just as we were all wondering about it, my stomach was empty again. Maybe it's because I joined μ's that my stomach keeps growling?)
Hanayo: (After all, I'm always slow and I'm bad at physical activity.)
Hanayo: (This is the first time I've ever sung and danced every day, moving my body with all my might.)
Hanayo: (My new goal as a member of μ's will be trying to stop my stomach from growling...!)
Hanayo: (I've decided! From now on, I'll bring two lunches to school!)
Hanayo: (One to eat early, and one for lunch break. It's a bit embarrassing, but... having my stomach growl during class is worse, right? Ehe~)
Event Point Awards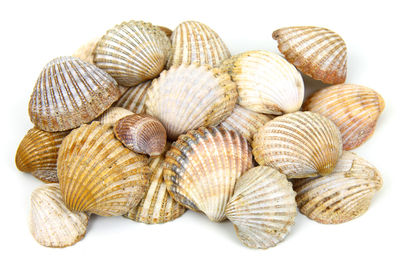 | Points Achieved | Reward |
| --- | --- |
| 10 pts | 5000 G |
| 50 pts | 100 Friend Points |
| 200 pts | 1 Loveca Stone |
| 500 pts | 5000 G |
| 1000 pts | 1 Loveca Stone |
| 1500 pts | 200 Friend Points |
| 2000 pts | Leo (Cool) |
| 3000 pts | 10000 G |
| 4000 pts | 1 Loveca Stone |
| 5000 pts | 15000 G |
| 6000 pts | R Alpaca |
| 7000 pts | 300 Friend Points |
| 8000 pts | R Yamauchi Nanako |
| 9000 pts | 20000 G |
| 10000 pts | 400 Friend Points |
| 11000 pts | SR Hanayo x1 |
| 12000 pts | 500 Friend Points |
| 13000 pts | 25000 G |
| 14000 pts | 500 Friend Points |
| 15000 pts | 1 Loveca Stone |
| 16000 pts | 30000 G |
| 17000 pts | 750 Friend Points |
| 18000 pts | 1 Loveca Stone |
| 19000 pts | 40000 G |
| 20000 pts | 750 Friend Points |
| 21000 pts | 1 Loveca Stone |
| 22000 pts | 50000 G |
| 23000 pts | 1000 Friend Points |
| 24000 pts | 60000 G |
| 25000 pts | 2 Loveca Stones |
| 27500 pts | 1000 Friend Points |
| 30000 pts | 2 Loveca Stones |
| 35000 pts | 3 Loveca Stones |
Event Point Ranking Awards
Event Rank
Reward
1st - 4200th

SR Hanayo x2

4201st - 21000th

SR Hanayo x1

21001st - 50400th
R Miyama Satoko

1 Ticket

50401st - 105000th
1 Ticket
105001st - 189000th
3 Loveca Stones
189001st - 294000th
2 Loveca Stones
294001st - 420000th
1 Loveca Stone
Event Song Ranking Awards