のぞみんのスピリチュアルライフ。
From Love Live! School Idol Festival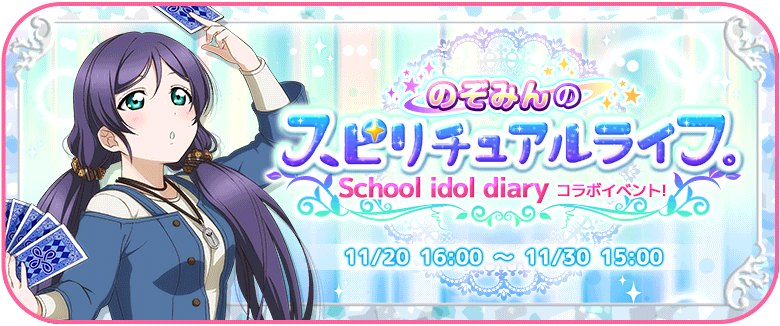 Event Name: のぞみんのスピリチュアルライフ。
Event Name (Romaji): Nozomin no Spiritual Life.
Event Name (English): Nozomin's Spiritual Life.
Event Period: November 20, 2014, 4PM JST - November 30, 2014, 3PM JST
Token:
Event Live: 純愛レンズ
Main Event Prize:

SR Nozomi
Event Song Note Distribution
Note: See Unit Formation for more details
| 純愛レンズ | A | B | C | D | E | F | G | H | I |
| --- | --- | --- | --- | --- | --- | --- | --- | --- | --- |
| Total Notes: 394 | 45 | 51 | 50.5 | 49.5 | 7 | 49.5 | 51.75 | 52.75 | 45 |
Event Cards
Torii Ayumi [Normal #466]

Max Level: 40

HP: 3

1980

720

500


Appeal: None




---


Center Skill: None



Toujou Nozomi (Fairy Ver.) [Super Rare #469]

Max Level: 80

HP: 4

3800

4710

3510


Appeal: 100% Accuracy
Every 10 seconds, there is a 29% chance of turning all goods and greats in the next 4 seconds into perfects. (Level 1)




---


Center Skill: Pure Heart
Increases Pure points by 6%.



Event Scenarios
Chapter 1
Nozomi: (As I was absentmindedly walking in the schoolyard, basking in the spring sun...)
Nozomi: (A light breeze blew across the dry, sandy ground.)
Nozomi: (It created a small little tornado, and in the middle of that, I felt like I could see it--)
Nozomi: (A tiny, tiny dragon god. It appeared for just a split second in that little swirl of wind before disappearing again...)
Nozomi: (This kind of thing happens often in my life.)
Nozomi: (After transferring to schools all over the country because my parents were relocated due to work, it's now been three years since I've returned to Akihabara.)
Nozomi: (This is a "power spot" where there are many gods of all sizes, such as dragon gods and fox gods.)
Nozomi: (Every step I take is brimming with a nice feeling.)
Nozomi: (And I've been living a carefree high school life in this town.)
Nozomi: (It feels like I'm too happy... So I think I might've been letting my guard down recently.)
Nozomi: (That's right. I let my guard down on a spring day just like this...)
Nozomi: (...and ended up joining a school idol group called μ's on a whim. ♡)
Chapter 2 - Unlocked at 500 points
Nozomi: (Ever since I was little, I've never really had any interest in fashion or idols.)
Nozomi: (The things that excited me were more like...)
Nozomi: (Touring the nearby power spots, charms that were rumored to carry divine blessings, or looking up at the vast sky, just like right now...)
Nozomi: (...with the sense that a large wind god is travelling back and forth.)
Nozomi: (But saying things like that would make everyone stay away, right? ♪)
Nozomi: (That's why the only part of this hobby that I show them is my famous fortune-telling.)
Nozomi: (I used it as my secret method of getting familiar with everyone whenever I transferred schools.)
Nozomi: (All girls love fortune-telling to begin with... so this ability definitely came in handy.)
Nozomi: (Whenever I moved to a new school or class, just saying "I'll tell your fortune~" was enough to quickly and easily fit in with everyone. ♪)
Nozomi: (Lately I've had plenty of time to enjoy the results of that... and today, a girl in my class asked me to tell her fortune after school.)
Nozomi: Hmm? This card is The Lovers! It represents meetings and opportunity. Perhaps it's a sign that the person you like is also interested in you?
Nozomi: (When she heard the result of her fortune, she happily exclaimed, "Kyaa, I want us to get together!" and seemed to be having a lot of fun. ♪)
Nozomi: (Seeing everyone look so happy has lately made me feel glad that I can do fortune-telling.)
Nozomi: (Before, I thought of it as a sacred process, and so messing around with love fortunes seemed wrong...)
Nozomi: (To be honest, I think it's better not to do it, because it's more fun when you don't know how your love life will fare.)
Nozomi: (But if I said that, Nico would call me "someone that doesn't understand a maiden's heart" again.)
Nozomi: (So lately, I've come to think that it's not bad to have fun with it together, even if I don't really get it myself.)
Nozomi: (Hmm, perhaps this is another effect of the Akihabara power spot. ♪)
Nozomi: (I think these things to myself as I walk home on this spring day.)
Chapter 3 - Unlocked at 2,000 points
Nozomi: (Ah, it's a fox.)
Nozomi: (Before I realized it, I'd arrived at a shrine in the neighborhood.)
Nozomi: (This is a special shrine for me-- it's where I talked alone with Eli for the first time, soon after transferring to Otonoki.)
Nozomi: (That day, when I saw Elichi with her blonde hair illuminated by the sunset, I thought she was a demon girl that had come to trick me.)
Nozomi: (I felt like I'd heard a fox's voice calling to me from the bright red torii.)
Nozomi: (Now that I think about it, perhaps it was meeting Eli that brought me into μ's.)
Nozomi: (When I think of it like that, it feels like the good mood I'm in now is thanks to this fox. ♡)
Nozomi: (I don't have any deep fried tofu to give as an offering, but... let's make a short visit anyway--)
Chapter 4 - Unlocked at 6,000 points
Nozomi: (As I think that and turn around, I see something right before my eyes.)
Nozomi: (In the sliver of vast sky visible in the gap between the buildings, a cloud drifts by with incredible vigour. And on top of that cloud is--)
Nozomi: Ah, Benten-san! (goddess of arts and wisdom)
Nozomi: (--a beautiful girl with black hair.)
Nozomi: (Her skin is pale, almost translucent, and she faces me with a calm, mysterious smile.)
Nozomi: (This is bad... It's a real god.)
Nozomi: (It's calling out to me--)
Nozomi: (As I think that, the goddess speaks.)
Umi: What are you doing here?
Chapter 5 - Unlocked at 11,000 points
Nozomi: Umi-chan!?!?!?
Umi: Nozomi, what are you doing all the way out here?
Nozomi: Oh, it was you, Umi-chan! I came here to visit the shrine, but I thought for sure that you were...
Nozomi: ...a goddess that descended from the sky...
Umi: W-What are you saying!? I'm honored to hear that, but unfortunately, it's just me.
Umi: I was going to meet up at Honoka's place with Kotori...
Nozomi: (When I look at Umi-chan's face as she talks, I realize...)
Nozomi: (Could having both Benten-san and a demon girl mean that Otonoki is a school where gods gather together?)
Nozomi: (I start classifying the members of μ's as different types of gods.)
Nozomi: (Nico is definitely fox-like, Rin-chan is a monkey god, Hanayo-chan is a kappa, and Maki-chan is a tengu-- though she'd get mad if I said that.)
Nozomi: (So she can be Konohana no Sakuyahime instead, Kotori-chan is like an angel, and Honoka-chan is...)
Nozomi: (Hehe♡ Oh no, no matter how I think about it, when I imagine Honoka-chan's face... I can only see a god of poverty wearing a straw mat~!)
Umi: Um, Nozomi? Can you hear me? Would you like to come to Honoka's house with us?
Nozomi: Ah, yeah, of course I'll go~ Thanks for inviting me. ♡
Nozomi: (As I say that, I realize that this is the first school I've gone to where there are so many nice girls that I can even compare to gods.)
Nozomi: (That's why I'll be staying with them forever. ♡)
Event Point Awards
| Points Achieved | Reward |
| --- | --- |
| 10 pts | 5000 G |
| 50 pts | 100 Friend Points |
| 200 pts | 1 Loveca Stone |
| 500 pts | 5000 G |
| 1000 pts | 1 Loveca Stone |
| 1500 pts | 200 Friend Points |
| 2000 pts | Torii Ayumi (Smile) |
| 3000 pts | 10000 G |
| 4000 pts | 1 Loveca Stone |
| 5000 pts | 15000 G |
| 6000 pts | R Alpaca |
| 7000 pts | 300 Friend Points |
| 8000 pts | R Yamauchi Nanako |
| 9000 pts | 20000 G |
| 10000 pts | 400 Friend Points |
| 11000 pts | SR Nozomi x1 |
| 12000 pts | 500 Friend Points |
| 13000 pts | 25000 G |
| 14000 pts | 500 Friend Points |
| 15000 pts | 1 Loveca Stone |
| 16000 pts | 30000 G |
| 17000 pts | 750 Friend Points |
| 18000 pts | 1 Loveca Stone |
| 19000 pts | 40000 G |
| 20000 pts | 750 Friend Points |
| 21000 pts | 1 Loveca Stone |
| 22000 pts | 50000 G |
| 23000 pts | 1000 Friend Points |
| 24000 pts | 60000 G |
| 25000 pts | 2 Loveca Stones |
| 27500 pts | 1000 Friend Points |
| 30000 pts | 2 Loveca Stones |
| 35000 pts | 3 Loveca Stones |
Event Point Ranking Awards
Event Rank
Reward
1st - 9000th

SR Nozomi x2

9001st - 45000th

SR Nozomi x1

45001st - 108000th
R Sasahara Kyouko

1 Ticket

108001st - 225000th
1 Ticket
225001st - 405000th
3 Loveca Stones
405001st - 630000th
2 Loveca Stones
630001st - 900000th
1 Loveca Stone
Event Song Ranking Awards