オトノキ七不思議。
From Love Live! School Idol Festival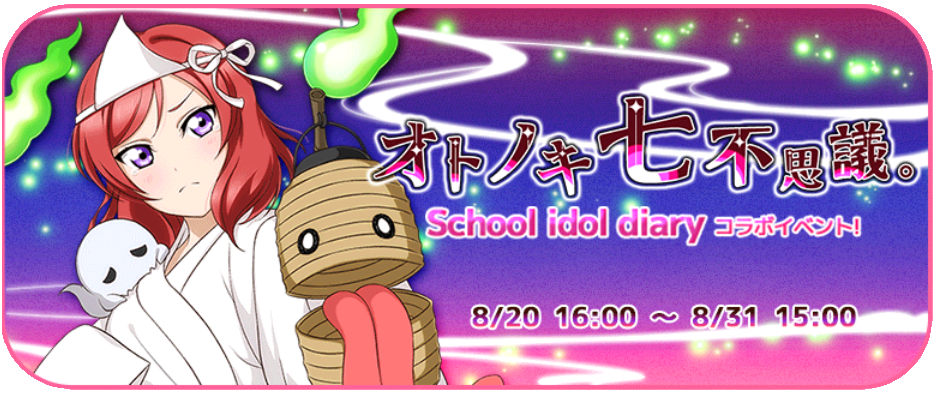 Event Name: オトノキ七不思議。
Event Name (Romaji): Otonoki Nana Fushigi
Event Name (English): The Seven Mysteries of Otonoki
Event Period: August 20, 2014, 4PM JST - August 31, 2014, 3PM JST
Token:
Event Live: Daring!!
Main Event Prize:

SR Maki
Event Song Note Distribution
Note: See Unit Formation for more details
| Daring!! | A | B | C | D | E | F | G | H | I |
| --- | --- | --- | --- | --- | --- | --- | --- | --- | --- |
| Total Notes: 342 | 33.5 | 44.75 | 44.25 | 44.25 | 12 | 42.25 | 46.25 | 42.5 | 37.5 |
Event Cards
Tanaka Sachiko [Normal #398]

Max Level: 40

HP: 2

490

2300

870


Appeal: None




---


Center Skill: None



Nishikino Maki (Ghost Story Ver.) [Super Rare #399]

Max Level: 80

HP: 4

3770

3630

4680


Appeal: I Hate Ghosts!
For every 35 hit combo string, there is a 23% chance of increasing player's score by 580 points. (Level 1)




---


Center Skill: Cool Heart
Increases Cool points by 6%.



Event Scenarios
Chapter 1
Nozomi: Hey, Maki-chan. Have you heard of the Seven Mysteries of Otonoki, our school's scary ghost stories?
Maki: What? I know ghost stories are an essential part of summer, but isn't it awfully cliched for a school to have its seven mysteries?
Nozomi: Not at all~ Ours are pretty good. ♪
Nozomi: Number one: Sometimes, the old well on the hill behind the school will fill with water. When you look into it, your face will be reflected on the surface of the water... except horribly burnt.
Hanayo: Kyaaaaaa! That's scary, Nozomi-chan!
Nozomi: Ah, sorry. I guess I went a bit too far. ♪
Rin: Huh~ What does that mean, Nozomi-chan? Are there ghosts at Otonoki!? Wow~ I want to try being possessed by a really smart ghost~ ☆
Rin: "I'm~ a~ ghost~! Now~ I'll~ definitely~ get~ perfect~ on~ my~ tests~!" Like that!
Hanayo: R-Rin-chan, that's a bit...
Maki: See, you're scaring Hanayo-chan. Stop that, you two. Besides, those kinds of stories are obviously fake.
Nico: Oh, hey, Nozomin! What about that third mystery? Is there really a ghost that plays the piano in the music room?
Nozomi: Of course. ♪
Nico: Is it an original song? If we could copy it, we could call it a famous supernatural song, and it'd be a really hot topic on the internet... ♪
Chapter 2 - Unlocked at 500 points
Maki: Ugh! Like I've been saying, why do I have to come with you so late at night just to see this supposedly haunted music room!?
Nico: Hmm? Don't you want to meet the ghost too, Maki-chan?
Maki: No, I don't.
Nico: Besides, even if the ghost really appears and plays the piano, I don't know how to write music. You're the only one that can, right?
Maki: Th-That's why you called me here!? They say that if you meet the ghost, you'll get a high fever after a week...
Nico: Oh! You believed the story after all. ♡
Maki: W-Wait, what, don't say stupid things like that! Of course I didn't believe it! Everything about that story sounds fake.
Maki: After all, a haunted music room is the most generic mystery ever. Someone must've heard it from somewhere else, and spread the false rumor here, too.
Nico: Ohh, there's nothing to worry about then! ♪ But it'd be great if it were true~ I'd definitely bring that song back with me ~nico!
Nico: And then I'd upload it onto the internet to draw attention to μ's. Everyone loves scary stories, so it's bound to get tons of views! ♪
Maki: Ahh, I don't want to do this anymore. Oh right, Nico-chan, I just remembered something I have to go do. So let's stop for today...
Nico: Oh, you too!? That's good... I had something to do, too. ♡
Maki: You too!? ...Wait, what's that supposed to mean?
Nico: I've been needing to use the restroom for a while now! Let's go together then. ♡ If we're together, I won't be afraid of Hanako-san~ ♪
Maki: W-Wait, no, I didn't need to go to the restroom or anything, and I... really, really don't want to see Hanako-san, okay!?
Chapter 3 - Unlocked at 2,000 points
Maki: Hey, Nico-chan, you're still in there, right? ...Don't you dare run off by yourself, okay!?
Nico: I'm here, I'm here ~nico ♪ I mean, if I'm in a stall and you're at the exit, there's no way you wouldn't see me leaving ~nico!
Maki: Th-That's true... But since I'm waiting by the sink... Ah, ahhhhhhhh!
Nico: W-What is it ~nico!?
Maki: I-I thought it was a ghost... but it was my reflection in the mirror...
Nico: Maki-chan... you get scared too easily ~nico. Calm down a bit.
Maki: ...
Maki: Come on, Nico-chan. Can't you hurry up...
Nico: Jeez! You're too impatient ~nico! Don't rush me so much, it's annoying ~nico!
Maki: S-Sorry.
Maki: But, um... Nico-chan?
Nico: Can't you just wait a little longer!?
Maki: Okay...
Chapter 4 - Unlocked at 6,000 points
Maki: (Ahh, but what should I do?)
Maki: (Waiting here like this is making me more and more scared... I don't believe in Nozomi-chan's seven mysteries, but then it's not like I totally don't believe in them, but...)
Maki: ...Huh?
Maki: I can... hear something.
Maki: (It's coming from the music room...? It's the sound of a piano... It's clear like Satie, but somewhat unsettling...)
Maki: (Oh no, this is bad... It's the third mystery that Nozomi-chan was talking about.)
Maki: (A female ghost appears at night and plays the piano in the music room. If you're drawn in by the notes and you make eye contact with her, then within a week you'll...)
Maki: Kyaaaaaaaaaaa!
Maki: Kyaaa! No, this is stupid, I hate this! Mama, Papa... someone save me!!
Maki: (I hate ghosts...!)
Maki: (I ran, and ran, and ran while crying.)
Maki: (...Oh. That was when I realized I'd left the school building and was now in the middle of the schoolyard.)
Maki: (What should I do? I left Nico-chan behind...)
Chapter 5 - Unlocked at 11,000 points
Maki: (My fear of ghosts has reached its peak... but leaving Nico-chan there makes me even more scared.)
Maki: This won't do. I have to go back inside!
Maki: Nico-chan, where are you? I'm sorry, Nico-chan... please tell me you haven't been eaten by the ghost...!
Maki: (I spot Nico-chan standing by the entrance, both cheeks wet with tears...)
Maki: I'm so sorry! Are you okay, Nico-chan... are you crying?
Nico: Waaaaaaaahh!!! How could you leave me alone in such a scary place~!?!
Maki: I really am sorry! I thought I heard the sound of a piano, and you didn't really seem that scared of ghosts, so...
Nico: What!? I'm not scared when I'm with you, but it's a different story when I'm alone!!!
Maki: Nico-chan...
Nico: Jeez, I fell and scraped my knee, so now it hurts and I can't walk.
Maki: Shall we go home together then?
Nico: Give me your hand.
Maki: Sure.
Maki: (Nico-chan is still teary-eyed, so I hold her hand tightly--so that we'll never, ever be separated.)
Maki: (We walk like that the entire way back on the night path.)
Maki: (Nico-chan looks just like an elementary school kid when she's crying, and somehow, looking at her makes my fear of ghosts and the school building at night disappear completely...)
Maki: (Is today one of my own seven mysteries? ♡ Nico-chan was right, it's a different story depending on if you're together or alone.)
Event Point Awards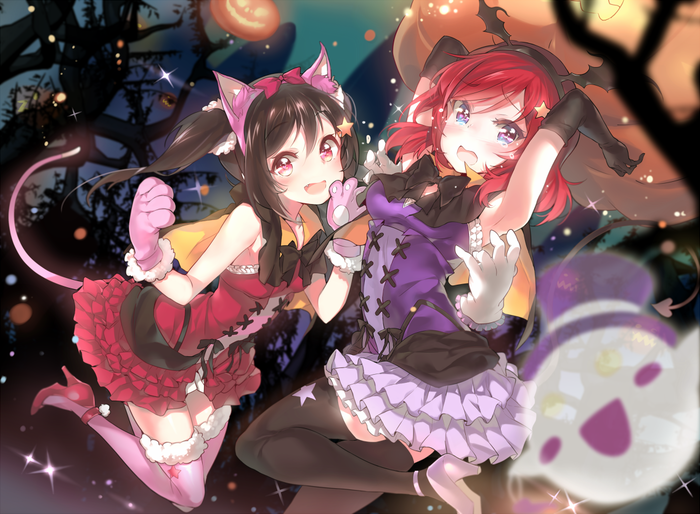 | Points Achieved | Reward |
| --- | --- |
| 10 pts | 5000 G |
| 50 pts | 100 Friend Points |
| 200 pts | 1 Loveca Stone |
| 500 pts | 5000 G |
| 1000 pts | 1 Loveca Stone |
| 1500 pts | 200 Friend Points |
| 2000 pts | Tanaka Sachiko (Pure) |
| 3000 pts | 10000 G |
| 4000 pts | 1 Loveca Stone |
| 5000 pts | 15000 G |
| 6000 pts | R Alpaca |
| 7000 pts | 300 Friend Points |
| 8000 pts | R Sasahara Kyouko |
| 9000 pts | 20000 G |
| 10000 pts | 400 Friend Points |
| 11000 pts | SR Maki x1 |
| 12000 pts | 500 Friend Points |
| 13000 pts | 25000 G |
| 14000 pts | 500 Friend Points |
| 15000 pts | 1 Loveca Stone |
| 16000 pts | 30000 G |
| 17000 pts | 750 Friend Points |
| 18000 pts | 1 Loveca Stone |
| 19000 pts | 40000 G |
| 20000 pts | 750 Friend Points |
| 21000 pts | 1 Loveca Stone |
| 22000 pts | 50000 G |
| 23000 pts | 1000 Friend Points |
| 24000 pts | 60000 G |
| 25000 pts | 2 Loveca Stones |
| 27500 pts | 1000 Friend Points |
| 30000 pts | 2 Loveca Stones |
| 35000 pts | 3 Loveca Stones |
Event Point Ranking Awards
Event Rank
Reward
1st - 8500th

SR Maki x2

8501st - 42500th

SR Maki x1

42501st - 102000th
R Miyama Satoko

1 Ticket

102001st - 212500th
1 Ticket
212501st - 382500th
3 Loveca Stones
382501st - 595000th
2 Loveca Stones
595001st - 850000th
1 Loveca Stone
Event Song Ranking Awards