コワレヤスキ
From Love Live! School Idol Festival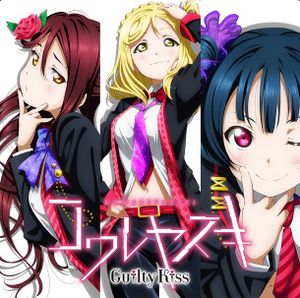 Title (romaji): Kowareyasuki
Title (English): Fragilove
Title (Simplified Chinese): 脆弱易碎
Stage Attribute: COOL
How to Obtain: Clear Chapter 24, Part 3 of the Aqours story (Clear 65 Aqours assignments).
Note: Originally a special song from 2017/07/15 - 2017/08/25.
Info
Compose: Saeki Takashi
Arrange: Saeki Takashi
Lyrics: Hata Aki
Single released on June 21, 2017 and sung by the Aqours sub-unit Guilty Kiss, consisting of Sakurauchi Riko, Tsushima Yoshiko and Ohara Mari.
Easy
Stage Level:

★

Required LP: 5
EXP Gained: 12
C Rank
B Rank
A Rank
S Rank
SCORE
9100 pts
500 G
22750 pts
900 G
27300 pts
1500 G
31850 pts
2500 G
COMBO
28 Combo
250 G
46 Combo
500 G
64 Combo
750 G
91 Combo
1250 G
CLEAR
1 Time
25 FP
5 Times
50 FP
10 Times
75 FP
20 Times
100 FP
Normal
Stage Level:

★★★

★★

Required LP: 10
EXP Gained: 26
C Rank
B Rank
A Rank
S Rank
SCORE
24684 pts
1500 G
61710 pts
2500 G
74052 pts
5000 G
86394 pts
7500 G
COMBO
57 Combo
1000 G
94 Combo
1500 G
131 Combo
2000 G
187 Combo
3000 G
CLEAR
5 Times
100 FP
10 Times
150 FP
20 Times
200 FP
40 Times
300 FP
Hard
C Rank
B Rank
A Rank
S Rank
SCORE
56270 pts
5000 G
140675 pts
8000 G
168810 pts
12000 G
196945 pts
1000 FP
COMBO
100 Combo
4000 G
166 Combo
7000 G
232 Combo
10000 G
331 Combo
1000 FP
CLEAR
10 Times
300 FP
20 Times
500 FP
40 Times
700 FP
100 Times
1 LS
Expert
C Rank
B Rank
A Rank
S Rank
SCORE
111619 pts
5000 G
279312 pts
8000 G
334857 pts
12000 G
390931 pts
1000 FP
COMBO
159 Combo
7000 G
265 Combo
10000 G
371 Combo
500 FP
529 Combo
1 LS
CLEAR
15 Times
300 FP
30 Times
500 FP
60 Times
1000 FP
120 Times
1 LS
Note Distributions
See Unit Formation for more information
| コワレヤスキ | A | B | C | D | E | F | G | H | I |
| --- | --- | --- | --- | --- | --- | --- | --- | --- | --- |
| Easy | 8 | 12.25 | 13.25 | 7.25 | 10 | 6.25 | 13.25 | 13.25 | 9 |
| Normal | 23.25 | 24.25 | 22 | 24.25 | 5 | 25.25 | 20 | 22.25 | 22.25 |
| Hard | 34.5 | 42.25 | 37.5 | 38.5 | 33 | 39.5 | 37.25 | 43.5 | 34.5 |
| Expert | 52.75 | 70.5 | 72.25 | 62.5 | 28.25 | 61.25 | 70.75 | 70 | 51.25 |