ジングルベルがとまらない
From Love Live! School Idol Festival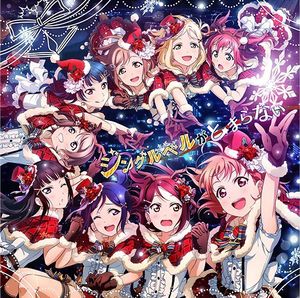 Title (romaji): Jingle Bell ga Tomaranai
Title (English): Don't Stop the Jingle Bells
Title (Simplified Chinese): 不会停止的铃儿响叮当
Stage Attribute: PURE
How to Obtain: Clear Chapter 5, Part 1 of the Aqours story (Clear 17 Aqours assignments).
Info
Compose: Mitsumasu Hajime
Arrange: EFFY
Lyrics: Hata Aki
Special song written to commemorate Love Live! School Idol Festival hitting thirty million players worldwide, released on November 23, 2016.
Easy
Stage Level:

★★

Required LP: 5
EXP Gained: 12
C Rank
B Rank
A Rank
S Rank
SCORE
10800 pts
500 G
27000 pts
900 G
32400 pts
1500 G
37800 pts
2500 G
COMBO
33 Combo
250 G
54 Combo
500 G
76 Combo
750 G
108 Combo
1250 G
CLEAR
1 Time
25 FP
5 Times
50 FP
10 Times
75 FP
20 Times
100 FP
Normal
Stage Level:

★★★

★★

Required LP: 10
EXP Gained: 26
C Rank
B Rank
A Rank
S Rank
SCORE
25212 pts
1500 G
63030 pts
2500 G
75636 pts
5000 G
88242 pts
7500 G
COMBO
58 Combo
1000 G
96 Combo
1500 G
134 Combo
2000 G
191 Combo
3000 G
CLEAR
5 Times
100 FP
10 Times
150 FP
20 Times
200 FP
40 Times
300 FP
Hard
C Rank
B Rank
A Rank
S Rank
SCORE
57800 pts
5000 G
144500 pts
8000 G
173400 pts
12000 G
202300 pts
1000 FP
COMBO
102 Combo
4000 G
170 Combo
7000 G
238 Combo
10000 G
340 Combo
1000 FP
CLEAR
10 Times
300 FP
20 Times
500 FP
40 Times
700 FP
100 Times
1 LS
Expert
C Rank
B Rank
A Rank
S Rank
SCORE
110353 pts
5000 G
276144 pts
8000 G
331059 pts
12000 G
386497 pts
1000 FP
COMBO
157 Combo
7000 G
262 Combo
10000 G
367 Combo
500 FP
523 Combo
1 LS
CLEAR
15 Times
300 FP
30 Times
500 FP
60 Times
1000 FP
120 Times
1 LS
Note Distributions
See Unit Formation for more information
| ジングルベルがとまらない | A | B | C | D | E | F | G | H | I |
| --- | --- | --- | --- | --- | --- | --- | --- | --- | --- |
| Easy | 16.5 | 15.25 | 15.25 | 6 | 6.5 | 6 | 16.75 | 14 | 15.75 |
| Normal | 20.5 | 34.5 | 24.25 | 18.5 | 6.5 | 17.5 | 23.25 | 32.5 | 21.5 |
| Hard | 38.75 | 46.5 | 42.25 | 34.25 | 16.75 | 36.75 | 47 | 47.5 | 42.25 |
| Expert | 58.5 | 67.25 | 80.5 | 59 | 12.25 | 57.5 | 81.5 | 69.75 | 61 |