ダイスキだったらダイジョウブ!
From Love Live! School Idol Festival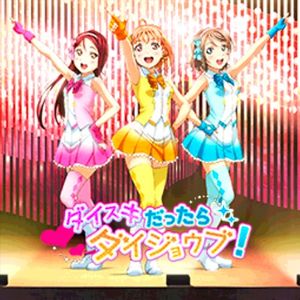 Title (romaji): Daisuki dattara Daijoubu!
Title (English): If You Love It, It'll Be Fine!
Title (Simplified Chinese): 最喜欢的话就没问题!
Stage Attribute: COOL
How to Obtain: Clear Chapter 4, Part 1 of the Aqours story.
Note: Originally a special song from 2016/07/20 - 2016/07/31.
Info
Compose: Takada Kyou
Arrange: Takada Kyou
Lyrics: Hata Aki
Used as an insert song in episode 3 of the Love Live! Sunshine!! anime's first season and released on August 3, 2016. The song is sung by Takami Chika, Sakurauchi Riko and Watanabe You. Second track on the Kimeta yo Hand in Hand single.
Easy
Stage Level:

★★★

Required LP: 5
EXP Gained: 12
C Rank
B Rank
A Rank
S Rank
SCORE
11600 pts
500 G
29000 pts
900 G
34800 pts
1500 G
40600 pts
2500 G
COMBO
35 Combo
250 G
58 Combo
500 G
82 Combo
750 G
116 Combo
1250 G
CLEAR
1 Time
25 FP
5 Times
50 FP
10 Times
75 FP
20 Times
100 FP
Normal
Stage Level:

★★★

★★

Required LP: 10
EXP Gained: 26
C Rank
B Rank
A Rank
S Rank
SCORE
26136 pts
1500 G
65340 pts
2500 G
78408 pts
5000 G
91476 pts
7500 G
COMBO
60 Combo
1000 G
99 Combo
1500 G
139 Combo
2000 G
198 Combo
3000 G
CLEAR
5 Times
100 FP
10 Times
150 FP
20 Times
200 FP
40 Times
300 FP
Hard
Stage Level:

★★★

★★★

★★

Required LP: 15
EXP Gained: 46
Replay: YouTube Niconico
C Rank
B Rank
A Rank
S Rank
SCORE
59500 pts
5000 G
148750 pts
8000 G
178500 pts
12000 G
208250 pts
1000 FP
COMBO
105 Combo
4000 G
175 Combo
7000 G
245 Combo
10000 G
350 Combo
1000 FP
CLEAR
10 Times
300 FP
20 Times
500 FP
40 Times
700 FP
100 Times
1 LS
Expert
C Rank
B Rank
A Rank
S Rank
SCORE
94317 pts
5000 G
236016 pts
8000 G
282951 pts
12000 G
330333 pts
1000 FP
COMBO
135 Combo
7000 G
224 Combo
10000 G
313 Combo
500 FP
447 Combo
1 LS
CLEAR
15 Times
300 FP
30 Times
500 FP
60 Times
1000 FP
120 Times
1 LS
Note Distributions
See Unit Formation for more information
| ダイスキだったらダイジョウブ! | A | B | C | D | E | F | G | H | I |
| --- | --- | --- | --- | --- | --- | --- | --- | --- | --- |
| Easy | 13 | 12.5 | 16.25 | 10 | 8.25 | 11 | 17.25 | 15.5 | 14 |
| Normal | 18.25 | 27 | 29 | 19 | 9 | 22 | 30 | 28 | 18.25 |
| Hard | 33.75 | 49 | 49.5 | 38.25 | 17 | 37.5 | 53.25 | 46.75 | 34 |
| Expert | 52 | 62.75 | 66 | 43.25 | 12.5 | 45 | 71.25 | 62.75 | 50.25 |