トリコリコPLEASE!!
From Love Live! School Idol Festival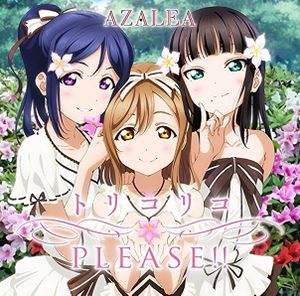 Title (romaji): Torikoriko PLEASE!!
Title (English): Please Let Me Capture You!!
Title (Simplified Chinese): 拜托让我俘虏你的心!!
Stage Attribute: PURE
Note: Special song from 2016/05/31 - 2016/07/15. Added to regular songs on July 5, 2016.
Info
Compose: Miyazaki Makoto
Arrange: Miyazaki Makoto
Lyrics: Hata Aki
Single released on May 25, 2016 and sung by the Aqours sub-unit AZALEA, consisting of Matsuura Kanan, Kurosawa Dia and Kunikida Hanamaru.
Easy
Stage Level:

★★

Required LP: 5
EXP Gained: 12
C Rank
B Rank
A Rank
S Rank
SCORE
10000 pts
500 G
25000 pts
900 G
30000 pts
1500 G
35000 pts
2500 G
COMBO
30 Combo
250 G
50 Combo
500 G
70 Combo
750 G
100 Combo
1250 G
CLEAR
1 Time
25 FP
5 Times
50 FP
10 Times
75 FP
20 Times
100 FP
Normal
Stage Level:

★★★

★★

Required LP: 10
EXP Gained: 26
C Rank
B Rank
A Rank
S Rank
SCORE
25740 pts
1500 G
64350 pts
2500 G
77220 pts
5000 G
90090 pts
7500 G
COMBO
59 Combo
1000 G
98 Combo
1500 G
137 Combo
2000 G
195 Combo
3000 G
CLEAR
5 Times
100 FP
10 Times
150 FP
20 Times
200 FP
40 Times
300 FP
Hard
C Rank
B Rank
A Rank
S Rank
SCORE
56270 pts
5000 G
140675 pts
8000 G
168810 pts
12000 G
196945 pts
1000 FP
COMBO
100 Combo
4000 G
166 Combo
7000 G
232 Combo
10000 G
331 Combo
1000 FP
CLEAR
10 Times
300 FP
20 Times
500 FP
40 Times
700 FP
100 Times
1 LS
Expert
C Rank
B Rank
A Rank
S Rank
SCORE
100858 pts
5000 G
252384 pts
8000 G
302574 pts
12000 G
353242 pts
1000 FP
COMBO
144 Combo
7000 G
239 Combo
10000 G
335 Combo
500 FP
478 Combo
1 LS
CLEAR
15 Times
300 FP
30 Times
500 FP
60 Times
1000 FP
120 Times
1 LS
Note Distributions
See Unit Formation for more information
| トリコリコPLEASE!! | A | B | C | D | E | F | G | H | I |
| --- | --- | --- | --- | --- | --- | --- | --- | --- | --- |
| Easy | 9.25 | 17 | 16.75 | 10.5 | 6 | 9.5 | 13.75 | 15 | 7.25 |
| Normal | 18.75 | 26.5 | 32.5 | 20.5 | 9 | 19.5 | 31.5 | 26.5 | 14.5 |
| Hard | 32.25 | 40 | 46 | 39.75 | 20 | 41.75 | 49 | 39.75 | 32.25 |
| Expert | 46.5 | 66 | 67.5 | 55 | 13 | 60.25 | 68.75 | 69 | 46.5 |