ニコニーの秘密測定♡
From Love Live! School Idol Festival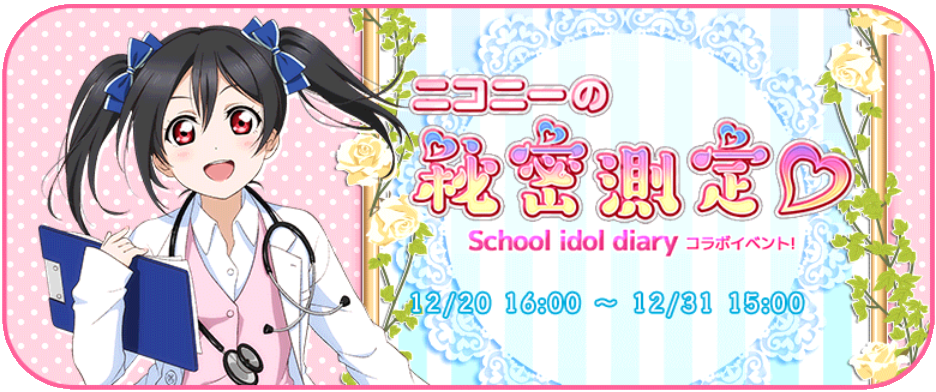 Event Name: ニコニーの秘密測定♡
Event Name (Romaji): Nico-nii no Himitsu Sokutei ♡
Event Name (English): Nico-nii's Secret Measurements ♡
Event Period: December 20, 2014, 4PM JST - December 31st, 2014, 3PM JST
Token:
Event Live: まほうつかいはじめました!
Main Event Prize:

SR Nico
Event Song Note Distribution
Note: See Unit Formation for more details
| まほうつかいはじめました! | A | B | C | D | E | F | G | H | I |
| --- | --- | --- | --- | --- | --- | --- | --- | --- | --- |
| Total Notes: 312 | 29.5 | 42 | 51 | 32 | 12.5 | 30.5 | 52 | 44.25 | 29.25 |
Event Cards
Kirihara Yuuka [Normal #485]

Max Level: 40

HP: 4

1920

840

520


Appeal: None




---


Center Skill: None



Yazawa Nico (Angel Ver.) [Super Rare #490]

Max Level: 80

HP: 4

4710

3810

3600


Appeal: Nico-nii Angel
For every 25 notes, there is a 49% chance of increasing player's score by 250 points. (Level 1)




---


Center Skill: Smile Heart
Increases Smile points by 6%.



Event Scenarios
Chapter 1
Nico: (I noisily run up the stairs leading to the rooftop, open the door with a loud clang, and am greeted by the clear blue sky!)
Nico: (Mmm, this is the perfect weather for spring measurements!)
Nico: (Having escaped from the classroom, I take a stretch under the spring sky, and then take out the super important secret document that I'd brought with me.)
Nico: (This is a recently-updated document that will determine my future.)
Nico: (A chart of my body measurements--)
Nico: (Year 3, Class C, Number 29: Yazawa Nico. And after that...)
Nico: (My shoulders slump.)
Nico: (What I see is a cruel number. Bust: 71 cm.)
Nico: (Ahh. I had a feeling it'd be like this, but, is this really even possible!?)
Nico: (I'm already 18 years old, which should be the peak of my growth... but it's been 71 cm for three years in a row now... *sniffle*)
Chapter 2 - Unlocked at 500 points
Rin: Ahhh~! It's Nico-chan~!! Are you skipping class~!?
Nico: (I hear a loud voice from behind me-- Hey, don't make such accusations! I just left so that I could check this secret information in private!)
Nico: (When I turn around, I see... Rin-chan and Kayo-chin!?)
Rin: All of the first years finished their examinations in the morning~☆ I stayed back with Kayo-chin because we have practice today, though.
Hanayo: We can't let ourselves be hungry before practice, so I thought I could eat the food I prepared for after class.
Nico: (Hanayo-chan is so cute when she's shy♪)
Rin: By the way Nico-chan, what are you doing here? Are you looking at some new idol information?
Nico: U-Uwaaaaaa!! I-It's nothing, really!! I was just looking at some school-related documents...
Rin: Ah, if you're hiding it so desperately, it must be test results, right~!? I understand how you feel~☆ Whenever I plan on cramming the night before, I always end up sleeping instead!
Nico: It's not that...!
Chapter 3 - Unlocked at 2,000 points
Nico: (Hanayo-chan sits down in front of me, carrying her lunch box.)
Nico: (Baaam~ Sticking right into my face is Hanayo-chan's bust...)
Nico: (Is this... a mountain range? Or giant peaks??)
Hanayo: Oh right, are you hungry, Nico-chan? You can have one of my rice balls if you want. ♡ Today's are a delicious mix of cod and kelp...
Nico: (Hanayo-chan pulls out a large rice ball wrapped in black seaweed. It looks like it has eyes on it, though...)
Hanayo: I tried to make a character-themed rice ball, ehehe. ♡ I love seaweed, after all.
Nico: (Looking at Hanayo-chan gives me a sinking feeling of absolute defeat.)
Nico: (Ahhh, there's no way I'd have the appetite to eat such a big rice ball. Besides, I've already had lunch!)
Nico: (I guess it's impossible for me to have a gravure model bust like Hanayo-chan if I can't even eat something like that...)
Rin: Kayo-chin really has always loved seaweed~ I love it too, when you put it in tonkotsu ramen!
Nico: (It suddenly dawns upon me after hearing Rin say that.)
Nico: So, basically...
Chapter 4 - Unlocked at 6,000 points
Nico: Rin-chan, master of all things Hanayo-chan, I have a question! Has Hanayo-chan always loved seaweed that much?
Nico: Is seaweed the secret behind that huge chest!?!?!
Rin: Huge chest~!? Ahh~ I get it now, the thing that you were anxious about was--
Nico: Kyaaaaa!! D-Don't look! Those are my secret measurements~!!!!
Rin: Ah~! You're in the 70s, just like me~♡♡♡ I'm so happy~♪ We're modest bust buddies!
Rin: It's too bad that we don't have the same impact as Kayo-chin and Nozomi-chan, but on the bright side it makes it easier to dance!
Nico: That may be true, but... as an idol, I at least want it to be over 80 ~nico.
Rin: Hmm, you have a point. If I had that much, I wouldn't be mistaken for a boy anymore~
Nico: Yes, that's right ~nico! Good, then won't you join me in researching the secret behind Hanayo-sensei's bust?
Rin: That sounds like a good idea~☆
Nico: There must be a secret hidden in her lifestyle that resulted in such a voluptuous chest ~nico!
Nico: I vow to never give up until I find out what it is ~nico!!
Chapter 5 - Unlocked at 11,000 points
Nico: (After that, Rin and I began to thoroughly study Hanayo-chan's life.)
Nico: (Wherever she went, we would follow behind her! As if it were a school for monkeys.)
Nico: (During classes, breaks, and lunch, we'd all be stuck together. And we'd check everything she did, even if it embarrassed her♪)
Nico: (And at the end of it all, when we hurriedly followed her to the washroom...)
Kotori: Hmm? Nico-chan, Rin-chan, what are you doing here?
Nico: (We ran into Kotori-chan and Umi-chan.)
Rin: Oh! You see, right now we're studying how to make our busts as big as Kayo-chin's. ☆
Nico: (This is bad-- Umi-chan's face just went pale.)
Rin: So we're following her right now, but she went into the washroom so we can't go in with her. Now we're waiting outside to ambush her. ♪
Umi: Nico! Rin!! What on earth are you two doing...!?!
Nico: (While Umi-chan angrily yells at us, Rin-chan and I cling to our chests and run for our lives! ♡)

Nico: (Ahhh, this time we were interrupted at a bad time, but as an idol, I still won't give up on that 80 cm bust ~nico!)
Nico: (I'll make my next target the one that was next to Umi-chan just now, Kotori-chan with her soft and bouncy chest. ♪)
Event Point Awards
| Points Achieved | Reward |
| --- | --- |
| 10 pts | 5000 G |
| 50 pts | 100 Friend Points |
| 200 pts | 1 Loveca Stone |
| 500 pts | 5000 G |
| 1000 pts | 1 Loveca Stone |
| 1500 pts | 200 Friend Points |
| 2000 pts | Kirihara Yuuka (Smile) |
| 3000 pts | 10000 G |
| 4000 pts | 1 Loveca Stone |
| 5000 pts | 15000 G |
| 6000 pts | R Alpaca |
| 7000 pts | 300 Friend Points |
| 8000 pts | R Miyama Satoko |
| 9000 pts | 20000 G |
| 10000 pts | 400 Friend Points |
| 11000 pts | SR Nico x1 |
| 12000 pts | 500 Friend Points |
| 13000 pts | 25000 G |
| 14000 pts | 500 Friend Points |
| 15000 pts | 1 Loveca Stone |
| 16000 pts | 30000 G |
| 17000 pts | 750 Friend Points |
| 18000 pts | 1 Loveca Stone |
| 19000 pts | 40000 G |
| 20000 pts | 750 Friend Points |
| 21000 pts | 1 Loveca Stone |
| 22000 pts | 50000 G |
| 23000 pts | 1000 Friend Points |
| 24000 pts | 60000 G |
| 25000 pts | 2 Loveca Stones |
| 27500 pts | 1000 Friend Points |
| 30000 pts | 2 Loveca Stones |
| 35000 pts | 3 Loveca Stones |
Event Point Ranking Awards
Event Rank
Reward
1st - 9000th

SR Nico x2

9001st - 45000th

SR Nico x1

45001st - 108000th
R Sasahara Kyouko

1 Ticket

108001st - 225000th
1 Ticket
225001st - 405000th
3 Loveca Stones
405001st - 630000th
2 Loveca Stones
630001st - 900000th
1 Loveca Stone
Event Song Ranking Awards