ユメ語るよりユメ歌おう
From Love Live! School Idol Festival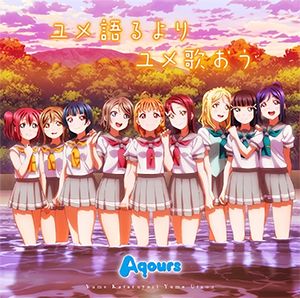 Title (romaji): Yume Kataru yori Yume Utaou
Title (English): Sing Your Dreams Instead of Talking about Them
Title (Simplified Chinese): 与其诉说梦想,不如高歌梦想
Stage Attribute: PURE
How to Obtain: Clear Chapter 2, Part 1 of the Aqours story (Clear 8 Aqours assignments).
Info
Compose: Yamaguchi Akihiko
Arrange: Yamaguchi Akihiko
Lyrics: Hata Aki
Ending song for the Love Live! Sunshine!! anime's first season and released on August 24, 2016.
Easy
Stage Level:

★★

Required LP: 5
EXP Gained: 12
C Rank
B Rank
A Rank
S Rank
SCORE
10600 pts
500 G
26500 pts
900 G
31800 pts
1500 G
37100 pts
2500 G
COMBO
32 Combo
250 G
53 Combo
500 G
75 Combo
750 G
106 Combo
1250 G
CLEAR
1 Time
25 FP
5 Times
50 FP
10 Times
75 FP
20 Times
100 FP
Normal
Stage Level:

★★★

★★

Required LP: 10
EXP Gained: 26
C Rank
B Rank
A Rank
S Rank
SCORE
24684 pts
1500 G
61710 pts
2500 G
74052 pts
5000 G
86394 pts
7500 G
COMBO
57 Combo
1000 G
94 Combo
1500 G
131 Combo
2000 G
187 Combo
3000 G
CLEAR
5 Times
100 FP
10 Times
150 FP
20 Times
200 FP
40 Times
300 FP
Hard
C Rank
B Rank
A Rank
S Rank
SCORE
55930 pts
5000 G
139825 pts
8000 G
167790 pts
12000 G
195755 pts
1000 FP
COMBO
99 Combo
4000 G
165 Combo
7000 G
231 Combo
10000 G
329 Combo
1000 FP
CLEAR
10 Times
300 FP
20 Times
500 FP
40 Times
700 FP
100 Times
1 LS
Expert
C Rank
B Rank
A Rank
S Rank
SCORE
99381 pts
5000 G
248688 pts
8000 G
298143 pts
12000 G
348069 pts
1000 FP
COMBO
142 Combo
7000 G
236 Combo
10000 G
330 Combo
500 FP
471 Combo
1 LS
CLEAR
15 Times
300 FP
30 Times
500 FP
60 Times
1000 FP
120 Times
1 LS
Note Distributions
See Unit Formation for more information
| ユメ語るよりユメ歌おう | A | B | C | D | E | F | G | H | I |
| --- | --- | --- | --- | --- | --- | --- | --- | --- | --- |
| Easy | 8 | 16.5 | 16.75 | 9.5 | 3.25 | 9.5 | 17.75 | 18.5 | 10 |
| Normal | 15.5 | 25 | 30.5 | 23.5 | 9.25 | 23.5 | 26.5 | 23 | 13.5 |
| Hard | 30.25 | 48.5 | 46.75 | 34.5 | 16.25 | 34.25 | 48.25 | 47.75 | 31.75 |
| Expert | 39 | 72.5 | 71.5 | 51.5 | 11 | 53.25 | 73.5 | 72.5 | 42.75 |