冬がくれた予感
From Love Live! School Idol Festival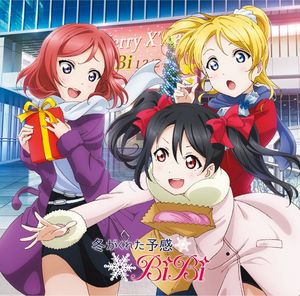 Title (romaji): Fuyu ga Kureta Yokan
Title (English): The Premonition that Winter Gave Me
Title (Simplified Chinese): 冬天所给的预感
Stage Attribute: COOL
How to Obtain: Complete the assignment for clearing Love Novels with a unit containing only Ayase Eli, Nishikino Maki, and Yazawa Nico (at least one of each).
Note: Originally a special song during the Medley Festival Round 1 event.
Info
Compose: Saeki Takashi
Arrange: Saeki Takashi
Lyrics: Hata Aki
Special song written to commemorate Love Live! School Idol Festival hitting three million players, released on December 24, 2014, and sung by the µ's sub-unit BiBi, consisting of Ayase Eli, Nishikino Maki and Yazawa Nico.
Easy
Stage Level:

★★

Required LP: 5
EXP Gained: 12
C Rank
B Rank
A Rank
S Rank
SCORE
9900 pts
500 G
24750 pts
900 G
29700 pts
1500 G
34650 pts
2500 G
COMBO
30 Combo
250 G
50 Combo
500 G
70 Combo
750 G
99 Combo
1250 G
CLEAR
1 Time
25 FP
5 Times
50 FP
10 Times
75 FP
20 Times
100 FP
Normal
Stage Level:

★★★

★★

Required LP: 10
EXP Gained: 26
C Rank
B Rank
A Rank
S Rank
SCORE
23892 pts
1500 G
59730 pts
2500 G
71676 pts
5000 G
83622 pts
7500 G
COMBO
55 Combo
1000 G
91 Combo
1500 G
127 Combo
2000 G
181 Combo
3000 G
CLEAR
5 Times
100 FP
10 Times
150 FP
20 Times
200 FP
40 Times
300 FP
Hard
C Rank
B Rank
A Rank
S Rank
SCORE
53890 pts
5000 G
134725 pts
8000 G
161670 pts
12000 G
188615 pts
1000 FP
COMBO
96 Combo
4000 G
159 Combo
7000 G
222 Combo
10000 G
317 Combo
1000 FP
CLEAR
10 Times
300 FP
20 Times
500 FP
40 Times
700 FP
100 Times
1 LS
Expert
Stage Level:

★★★

★★★

★★★

Required LP: 25
EXP Gained: 83
Replay: YouTube Niconico
C Rank
B Rank
A Rank
S Rank
SCORE
90519 pts
5000 G
226512 pts
8000 G
271557 pts
12000 G
317031 pts
1000 FP
COMBO
129 Combo
7000 G
215 Combo
10000 G
301 Combo
500 FP
429 Combo
1 LS
CLEAR
15 Times
300 FP
30 Times
500 FP
60 Times
1000 FP
120 Times
1 LS
Note Distributions
See Unit Formation for more information
| 冬がくれた予感 | A | B | C | D | E | F | G | H | I |
| --- | --- | --- | --- | --- | --- | --- | --- | --- | --- |
| Easy | 7 | 16.5 | 16.25 | 10.25 | 1.25 | 10.5 | 16.25 | 16.5 | 7 |
| Normal | 19.5 | 25.75 | 26.75 | 19.5 | 5.25 | 19.5 | 26.75 | 26.75 | 18.25 |
| Hard | 32.25 | 39.75 | 47 | 35.5 | 19.5 | 36.75 | 47 | 38.75 | 29.75 |
| Expert | 45.75 | 70 | 56 | 50 | 6 | 48.75 | 59.25 | 69.25 | 43.75 |