初イベントは大変!?
From Love Live! School Idol Festival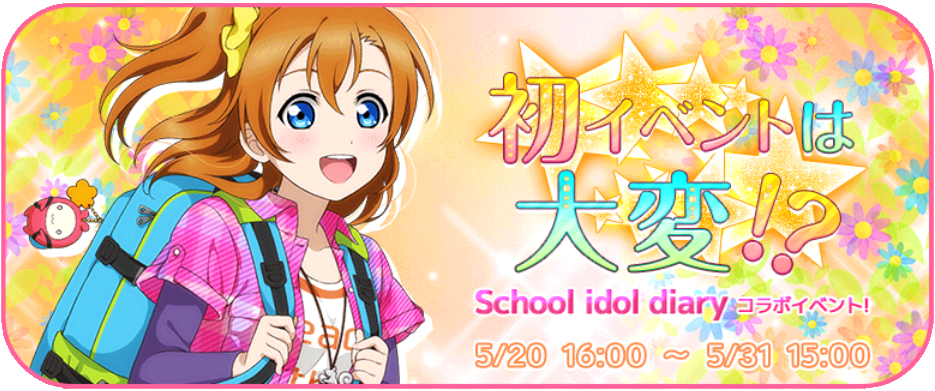 Event Name: 初イベントは大変!?
Event Name (Romaji): Hatsu Event wa Taihen!?
Event Name (English): The First Event Was a Disaster!?
Event Period: May 20, 2014, 4PM JST - May 31, 2014, 3PM JST
Token:
Event Live: Someday of my life
Main Event Prize:

SR Honoka
Event Song Note Distribution
Note: See Unit Formation for more details
| Someday of my life | A | B | C | D | E | F | G | H | I |
| --- | --- | --- | --- | --- | --- | --- | --- | --- | --- |
| Total Notes: 319 | 33.5 | 38.25 | 43.75 | 40.75 | 14 | 39.75 | 44 | 36.25 | 33.5 |
Event Cards
Kizaki Akira [Normal #323]

Max Level: 40

HP: 4

870

580

1690


Appeal: None




---


Center Skill: None



Kousaka Honoka (Hiking Ver.) [Super Rare #324]

Max Level: 80

HP: 4

4660

3840

3580


Appeal: Let's Take It Slowly!
For every 28 notes, there is a 38% chance of increasing player's score by 375. (Level 1)




---


Center Skill: Smile Heart
Increases Smile points by 6%.



Event Scenarios
Chapter 1
Honoka: (Tomorrow is our first school event with all nine members of μ's! It's even an official request from the student council!)
Honoka: Ehehe~ Oh no, I'm so happy that I can't help but grin!
Maki: Jeez Honoka, calm down! You call it our first school event, but we only got this opportunity because Eli-chan's in the student council, right?
Umi: Yeah, formally it's a request from the student council, but it's really just a request from the student council president, Eli.
Honoka: Ehh, what's wrong with that? Even if it's Eli-chan, the student council president is still the student council president! Even if the request is from one of our own members, it's still an official school event.
Umi: Well, I guess it's better than your grandma's request to dance at the neighborhood rice cake sale on Children's Day...
Maki: What!? I never heard about that! Are we really going to do that!?
Honoka: No, no, of course I'd decline that~ So yeah, unlike that request, our upcoming event is an official school event!
Honoka: I'm so excited! Let's do our best to make sure it's a success, so that μ's will rise higher and higher!
Maki, Umi: Yeah!
Chapter 2 - Unlocked at 500 points
Honoka: Come to think of it, it's already June. If we flip a page in the calendar, our exciting summer vacation is right there...! Our event show will be at a pool opening!
Maki: Wait, do you mean that we'll be dancing by the pool in swimsuits!?
Honoka: I asked Nico-chan for her opinion, and I thought it was a good idea too...
Umi: No way. Ab-so-lu-te-ly not! I think it would be problematic to hold such an inappropriate event at a school!
Honoka: ...But Umi-chan would get mad, so I scrapped that idea and decided we'd wear normal outfits.
Maki: Ah... But it's normal for idols to wear swimsuits at pool events, so it wouldn't really be "inappropriate", right?
Umi: What...? Surely you don't want to dance in a swimsuit, Maki!? The outfit Kotori came up with was a white bikini! That's too embarrassing!
Honoka: Aw, Umi-chan, now that you've become an idol, you've gotta wear a white bikini at some point~♪ But, it's okay.
Honoka: Now then, let's go to the pool! Eli-chan called us over. We have to prepare for tomorrow's show!
Chapter 3 - Unlocked at 2,000 points
Honoka: (Ta-da♪ We've arrived at the pool! What surprises me most is...)
Honoka: (The muddy green water that fills the pool! What's the meaning of this!?)
Maki: What is this, a pond!?
Umi: The pool has been taken over by algae and plants since it wasn't used at all in the winter...
Honoka: E-Eli-chan, what's going on!? The pool has become a swamp!
Eli: Ah, you're here. We're draining the water now, so be careful not to fall in.
Honoka: Oh I see, since we were so eager, we got the time wrong and came too early! We'll come back when the cleaning is done...
Eli: You didn't get it wrong at all. On the contrary, we're running low on time now, so hurry and get to work. Where are the other members?
Nico: Nico Smile~ Nico Smile~ Nico Nico Smile~♪ The poolside fairy, Nico Smile, has arrived! Has everyone been waiting for me~?
Eli: Indeed! We're tired of waiting, little fairy. So hurry and change out of those clothes--today you'll be using the power of love to clean the pool!
Honoka: Whaaat~!? When you said we were going to prepare for tomorrow's event, you meant cleaning the pool!?!?!?
Chapter 4 - Unlocked at 6,000 points
Honoka: (Scrub, scrub, scrub... As I rub the deck brush against the pool floor, a thin stream of warm sweat drips down behind my ear.)
Honoka: (When I look up, I see the vast, vast, blue sky, telling me that summer is near!)
Honoka: Hey Eli-chan, the pool cleaning is going pretty quickly with all of us around, huh?
Eli: Sorry, I couldn't get a price estimate from the contractors this year.
Eli: We couldn't get any student volunteers either, so it was a real pinch. But when it was decided that μ's would have an event tomorrow, I thought it was a perfect opportunity.
Nico: Liar! You definitely planned this from the start! I've always been saying that that's the kind of demon you are!
Maki: Ahh, my jersey is covered in algae!
Honoka: Hehehe! Doing this really makes us seem like low class idols!
Nico: No~! I was supposed to skip the rookie stuff and go straight to my debut as the world's idol, Nico Smile~☆!
Honoka: (Everyone bursts out laughing at Nico-chan's reaction, and that is when I realize that cleaning the pool together was actually fun.)
Honoka: (And even though we usually use the pool freely without thought, there was always someone who had to clean it like this.)
Honoka: Eli-chan, thank you.
Eli: H-Huh? Anyway, let's finish this up quickly and grab some ice cream on the way home, okay?
Honoka: Yeah!
Chapter 5 - Unlocked at 11,000 points
Honoka: (I can finally see about half of the pool's blue coating... I'm starting to feel a bit faint, but my willpower won't let me give up here!)
Honoka: (As I'm working and encouraging myself, I feel an itch on my nose and go to scratch it... only to end up giving myself a green algae beard.)
Honoka: (Nico-chan took a picture of it. Maybe we should present it at tomorrow's show?)
Honoka: (That's it - I'll go around advertising that anyone who wants to see my beard photo has to come to tomorrow's pool opening~!)
Honoka: (I hope the sun will be shining brightly tomorrow. The nine of us will hold our sparkling first live at the sparkling pool we cleaned together, under the sparkling sky.)
Honoka: (Ahh, now I'm so excited that I won't be able to sleep~! ...Or so I thought.)
Honoka: Yaaaaaawn~!
Honoka: (What a big yawn! Physical labor really takes its toll on you. I'll sleep well tonight, and be ready to do my best tomorrow.)
Honoka: (I hope a lot of people come to our show!)
Event Point Awards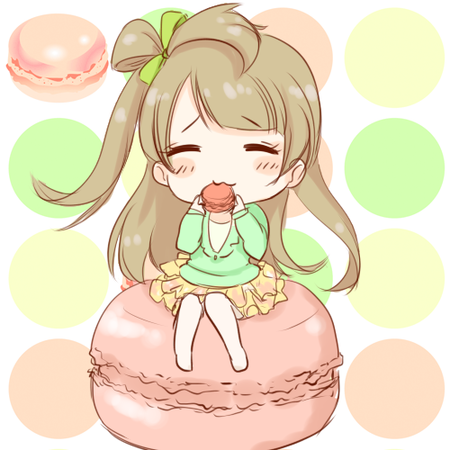 | Points Achieved | Reward |
| --- | --- |
| 10 pts | 5000 G |
| 50 pts | 100 Friend Points |
| 200 pts | 1 Loveca Stone |
| 500 pts | 5000 G |
| 1000 pts | 1 Loveca Stone |
| 1500 pts | 200 Friend Points |
| 2000 pts | Kizaki Akira (Cool) |
| 3000 pts | 10000 G |
| 4000 pts | 1 Loveca Stone |
| 5000 pts | 300 Friend Points |
| 6000 pts | R Alpaca |
| 7000 pts | 15000 G |
| 8000 pts | 400 Friend Points |
| 9000 pts | R Miyama Satoko |
| 10000 pts | 20000 G |
| 11000 pts | 500 Friend Points |
| 12000 pts | SR Honoka x1 |
| 13000 pts | 500 Friend Points |
| 14000 pts | 25000 G |
| 15000 pts | 1 Loveca Stone |
| 16000 pts | 750 Friend Points |
| 17000 pts | 30000 G |
| 18000 pts | 1 Loveca Stone |
| 19000 pts | 750 Friend Points |
| 20000 pts | 40000 G |
| 21000 pts | 1 Loveca Stone |
| 22000 pts | 1000 Friend Points |
| 23000 pts | 50000 G |
| 24000 pts | 1000 Friend Points |
| 25000 pts | 2 Loveca Stones |
| 27500 pts | 60000 G |
| 30000 pts | 2 Loveca Stones |
| 35000 pts | 3 Loveca Stones |
| 40000 pts | 3 Loveca Stones |
Event Point Ranking Awards
Event Rank
Reward
1st - 5000th

SR Honoka x2

5001st - 25000th

SR Honoka x1

25001st - 60000th
R Sasahara Kyouko

1 Ticket

60001st - 125000th
1 Ticket
125001st - 225000th
3 Loveca Stones
225001st - 350000th
2 Loveca Stones
350001st - 500000th
1 Loveca Stone
Event Song Ranking Awards