夏の終わりの雨音が
From Love Live! School Idol Festival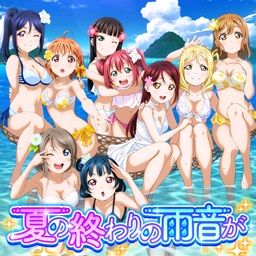 Title (romaji): Natsu no Owari no Amaoto ga
Title (English): The Sound of Rain at the End of Summer
Title (Simplified Chinese): 终夏的雨声
Stage Attribute: COOL
Note: Aqours daily song.
Info
Compose: Katagiri Shuutarou
Arrange: Egami Koutarou
Lyrics: Hata Aki
Fourth track on Love Live! Sunshine!! Duo/Trio Collection CD Vol.1 SUMMER VACATION, released on August 2, 2017. The song is sung by Takami Chika and Matsuura Kanan.
Easy
Stage Level:

★★★

★★

Required LP: 5
EXP Gained: 12
C Rank
B Rank
A Rank
S Rank
SCORE
16100 pts
1500 G
40250 pts
2500 G
48300 pts
5000 G
56350 pts
7500 G
COMBO
49 Combo
1000 G
81 Combo
1500 G
113 Combo
2000 G
161 Combo
3000 G
CLEAR
5 Times
100 FP
10 Times
150 FP
20 Times
200 FP
40 Times
300 FP
Normal
Stage Level:

★★★

★★★

★★

Required LP: 10
EXP Gained: 26
C Rank
B Rank
A Rank
S Rank
SCORE
39864 pts
5000 G
99660 pts
8000 G
119592 pts
12000 G
139524 pts
1000 FP
COMBO
91 Combo
4000 G
151 Combo
7000 G
212 Combo
10000 G
302 Combo
1000 FP
CLEAR
10 Times
300 FP
20 Times
500 FP
40 Times
700 FP
100 Times
1 LS
Hard
C Rank
B Rank
A Rank
S Rank
SCORE
75990 pts
10000 G
189975 pts
500 FP
227970 pts
1 LS
265965 pts
1 LS
COMBO
135 Combo
10000 G
224 Combo
500 FP
313 Combo
1 LS
447 Combo
1 LS
CLEAR
15 Times
500 FP
30 Times
1000 FP
60 Times
1 LS
150 Times
1 LS
Expert
C Rank
B Rank
A Rank
S Rank
SCORE
138416 pts
10000 G
346368 pts
500 FP
415248 pts
1 LS
484784 pts
1 LS
COMBO
197 Combo
10000 G
328 Combo
500 FP
460 Combo
1 LS
656 Combo
1 LS
CLEAR
15 Times
500 FP
30 Times
1000 FP
60 Times
1 LS
150 Times
1 LS
Note Distributions
See Unit Formation for more information
| 夏の終わりの雨音が | A | B | C | D | E | F | G | H | I |
| --- | --- | --- | --- | --- | --- | --- | --- | --- | --- |
| Easy | 17 | 23.75 | 23.75 | 16.75 | 6.75 | 17.75 | 23.75 | 25.75 | 17 |
| Normal | 36.25 | 35 | 44.75 | 29.75 | 23.25 | 29.75 | 42.25 | 34.25 | 36 |
| Hard | 53.75 | 52 | 62.25 | 60.75 | 13 | 56.5 | 63.5 | 54.25 | 48.5 |
| Expert | 74.75 | 78.5 | 90.5 | 77.5 | 23 | 75.5 | 94.25 | 79.5 | 79.75 |