夢で夜空を照らしたい
From Love Live! School Idol Festival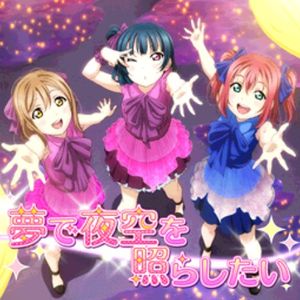 Title (romaji): Yume de Yozora wo Terashitai
Title (English): I Want to Illuminate the Night Sky with Our Dreams
Title (Simplified Chinese): 想用梦想照亮夜空
Stage Attribute: PURE
How to Obtain: Clear Chapter 7, Part 1 of the Aqours story (Clear 23 Aqours assignments).
Note: Originally a special song from 2016/08/15 - 2016/08/25.
Info
Compose: Mitsumasu Hajime
Arrange: EFFY
Lyrics: Hata Aki
Used as an insert song in episode 6 of the Love Live! Sunshine!! anime's first season and released on September 14, 2016. The song is sung by Takami Chika, Sakurauchi Riko, Watanabe You, Tsushima Yoshiko, Kunikida Hanamaru and Kurosawa Ruby.
Easy
Stage Level:

★

Required LP: 5
EXP Gained: 12
C Rank
B Rank
A Rank
S Rank
SCORE
9200 pts
500 G
23000 pts
900 G
27600 pts
1500 G
32200 pts
2500 G
COMBO
28 Combo
250 G
46 Combo
500 G
65 Combo
750 G
92 Combo
1250 G
CLEAR
1 Time
25 FP
5 Times
50 FP
10 Times
75 FP
20 Times
100 FP
Normal
Stage Level:

★★★

★★

Required LP: 10
EXP Gained: 26
C Rank
B Rank
A Rank
S Rank
SCORE
22572 pts
1500 G
56430 pts
2500 G
67716 pts
5000 G
79002 pts
7500 G
COMBO
52 Combo
1000 G
86 Combo
1500 G
120 Combo
2000 G
171 Combo
3000 G
CLEAR
5 Times
100 FP
10 Times
150 FP
20 Times
200 FP
40 Times
300 FP
Hard
C Rank
B Rank
A Rank
S Rank
SCORE
46070 pts
5000 G
115175 pts
8000 G
138210 pts
12000 G
161245 pts
1000 FP
COMBO
82 Combo
4000 G
136 Combo
7000 G
190 Combo
10000 G
271 Combo
1000 FP
CLEAR
10 Times
300 FP
20 Times
500 FP
40 Times
700 FP
100 Times
1 LS
Expert
C Rank
B Rank
A Rank
S Rank
SCORE
82923 pts
5000 G
207504 pts
8000 G
248769 pts
12000 G
290427 pts
1000 FP
COMBO
118 Combo
7000 G
197 Combo
10000 G
276 Combo
500 FP
393 Combo
1 LS
CLEAR
15 Times
300 FP
30 Times
500 FP
60 Times
1000 FP
120 Times
1 LS
Note Distributions
See Unit Formation for more information
| 夢で夜空を照らしたい | A | B | C | D | E | F | G | H | I |
| --- | --- | --- | --- | --- | --- | --- | --- | --- | --- |
| Easy | 7.25 | 11.5 | 12.5 | 11.75 | 7 | 12.75 | 13.5 | 10.75 | 9.5 |
| Normal | 10 | 21 | 26.25 | 23.5 | 12.25 | 25.5 | 27.25 | 21 | 10 |
| Hard | 26.25 | 33.5 | 43.25 | 28 | 11.5 | 28.25 | 48 | 37.5 | 29.25 |
| Expert | 29.25 | 60 | 57.25 | 46.25 | 17.5 | 49.25 | 59 | 59 | 27 |