幼なじみの2人。
From Love Live! School Idol Festival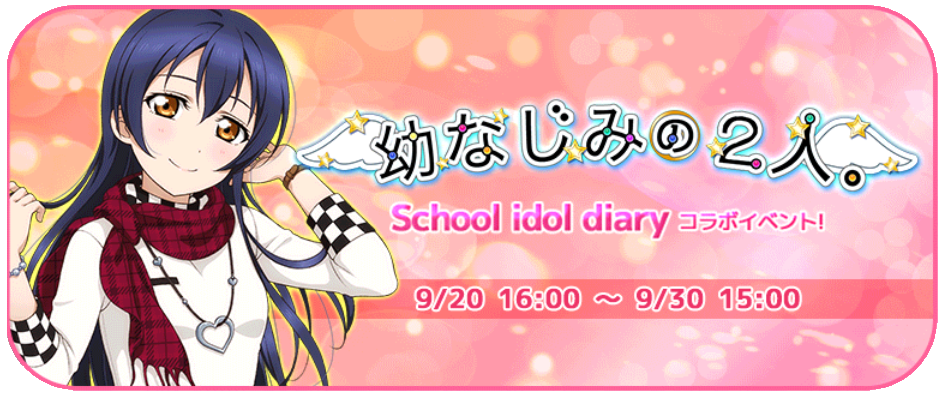 Event Name: 幼なじみの2人。
Event Name (Romaji): Osananajimi no Futari.
Event Name (English): The Two Childhood Friends.
Event Period: September 20, 2014, 4PM JST - September 30, 2014, 3PM JST
Token:
Event Live: 勇気のReason
Main Event Prize:

SR Umi
Event Song Note Distribution
Note: See Unit Formation for more details  
| 勇気のReason | A | B | C | D | E | F | G | H | I |
| --- | --- | --- | --- | --- | --- | --- | --- | --- | --- |
| Total Notes: 372 | 28.5 | 40.5 | 55.75 | 55 | 18.5 | 55 | 54.75 | 41.5 | 28.5 |
Event Cards
Isabella [Normal #416]

Max Level: 40

HP: 3

470

2190

780


Appeal: None




---


Center Skill: None



Sonoda Umi (Hero Ver.) [Super Rare #417]

Max Level: 80

HP: 4

3570

3800

4690


Appeal: A Hero Has Arrived!
Every 9 seconds, there is a 15% chance of increasing player's score by 600 points. (Level 1)




---


Center Skill: Cool Heart
Increases Cool points by 6%.



Event Scenarios
Chapter 1
Umi: (Hm? It looks like someone is here. (I was relaxing in my room at night, when the doorbell rang.) Who would come at such a late hour?)
Umi: Honoka! Why are you here so late!?
Honoka: I... ran away from home!
Umi: You ran away from home? What...?
Honoka: Don't worry. I told your mom that I came to get homework help from you.
Umi: It's already past 8 PM. There isn't much time left to work on homework...
Honoka: *sniff* It's fine! Just let me in!!!
Umi: (I watch Honoka quickly dash into my house, the way she's always done before. Her eyes are slightly red.)
Umi: (She's done it again... *sigh*)
Umi: (Honoka's house is only a few dozen meters away from mine, but it's been quite a while since she last ran away like this.)
Chapter 2 - Unlocked at 500 points
Honoka: Umi-chan~! I'm done with my bath~ Thanks for lending me your pajamas. Ahh, I feel so refreshed. ♪
Umi: There's not much choice at this point; do you want to sleep in my room tonight?
Honoka: Yeah! Wow, it's been a long time since I've been on your bed~ Japanese-style futons are okay too, but this is definitely better. ♡
Honoka: And it's fun to put the sofa bed next to it so that we can sleep together~ ♪
Umi: As I suspected... you're not in the mood for homework at all.
Honoka: H-Huh~!? E-Ehehehe. ♡ Well, it's already pretty late, you know! Right?
Umi: I guess it can't be helped... Hurry and get into bed, then. I'm turning off the lights, okay?
Honoka: O-Okay! That's right; the Sonoda family has training in the morning, so they sleep early! Gotta hurry~ ♡
Umi: Jeez, don't cling to me so closely... It's hot...
Chapter 3 - Unlocked at 2,000 points
Umi: (The room is now completely dark. But the silence only lasted for one short moment.)
Honoka: Hey, Umi-chan! Why haven't you asked me why I ran away from home yet?
Umi: That's right, I didn't...
Honoka: Waahh, Umi-chan doesn't care about why I ran away from home!
Umi: (That's not really it, but... hehe.)
Umi: You've always been like this, Honoka. Whenever you sleep over, it's like your switch turns on the instant the lights go out.
Honoka: Huh, i-is that so~? I never noticed, though...
Umi: So... Why did you run away?
Honoka: Ah, you've gotta listen to this! My dad was so mean!
Honoka: When I first started μ's, he didn't object to it at all, and said to do whatever I wanted to. But today, he suddenly said...
Honoka: "Since you're so engrossed in μ's, I've decided that Yukiho will inherit 'Homura'! You're fired!" Waaaahhh!!
Chapter 4 - Unlocked at 6,000 points
Honoka: You understand, right Umi-chan? I'm doing my best for μ's in order to protect Otonoki, which also means protecting everyone there.
Honoka: Those feelings are the same as my love for Homura, as well as this town, and yet...
Umi: (I listen to Honoka as she sniffles lightly beside me.)
Umi: (I can sort of understand her father's feelings.)
Umi: (He... must be a bit lonely, right?)
Umi: (Because Honoka is trying her best, doing everything she can for μ's. She's totally devoted to μ's--)
Umi: (Until now, she's always been a bright, honest, good girl, who cared so much about her family. But now, that young Honoka...)
Umi: (...has changed since μ's began.)
Umi: (He's probably jealous, as though his precious daughter has fallen in love and gone far away.)
Umi: (For some reason, I can understand those feelings...)
Umi: Come to think about it, do you remember? You often ran away to my house like this back in elementary school.
Honoka: Huh? Really?
Chapter 5 - Unlocked at 11,000 points
Umi: It was most frequent back when Yukiho was still small, and you'd run out of the house after getting into fights with her.
Honoka: Ahh, that's right! Now that I think about it, I really was imposing on you all the time, huh? ♡
Umi: I still remember when we went to the shrine by ourselves in 3rd grade, and caused a big fuss. Even the police came...
Honoka: Huh~? Something like that happened!? I don't recall that...
Umi: It was chaos! You were wailing about how you saw a ghost, and then for some reason that made me cry too, and the police officer got all flustered...
Umi: (Time passes as we talk about things like that. Before I know it, Honoka has fallen fast asleep.)
Umi: (As I look at her sleeping face, I think.)
Umi: (We've been friends since before we were even born, while we were still in our mothers' wombs.)
Umi: (I'm sure that even after we grow up into adults, become mothers, and even become grandmothers...)
Umi: (We'll always be together like this, forever and ever.)
Umi: (Always, without a doubt--)
Event Point Awards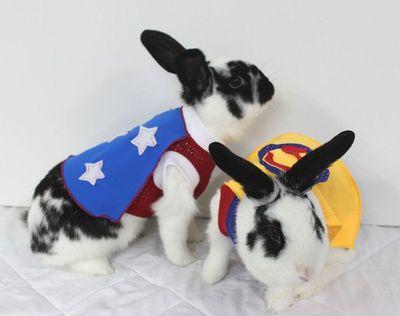 | Points Achieved | Reward |
| --- | --- |
| 10 pts | 5000 G |
| 50 pts | 100 Friend Points |
| 200 pts | 1 Loveca Stone |
| 500 pts | 5000 G |
| 1000 pts | 1 Loveca Stone |
| 1500 pts | 200 Friend Points |
| 2000 pts | N Isabella (Pure) |
| 3000 pts | 10000 G |
| 4000 pts | 1 Loveca Stone |
| 5000 pts | 15000 G |
| 6000 pts | R Alpaca |
| 7000 pts | 300 Friend Points |
| 8000 pts |  R Sasahara Kyouko |
| 9000 pts | 20000 G |
| 10000 pts | 400 Friend Points |
| 11000 pts | SR Umi x1 |
| 12000 pts | 500 Friend Points   |
| 13000 pts | 25000 G |
| 14000 pts | 500 Friend Points |
| 15000 pts | 1 Loveca Stone |
| 16000 pts | 30000 G |
| 17000 pts | 750 Friend Points |
| 18000 pts | 1 Loveca Stone |
| 19000 pts | 40000 G |
| 20000 pts | 750 Friend Points |
| 21000 pts | 1 Loveca Stone |
| 22000 pts | 50000 G |
| 23000 pts | 1000 Friend Points |
| 24000 pts | 60000 G |
| 25000 pts | 2 Loveca Stones |
| 27500 pts | 1000 Friend Points |
| 30000 pts | 2 Loveca Stones |
| 35000 pts | 3 Loveca Stones |
Event Point Ranking Awards
Event Rank
Reward
1st - 9000th

SR Umi x2

9001st - 45000th

SR Umi x1

45001st - 108000th
R Yamauchi Nanako

1 Ticket

108001st - 225000th
1 Ticket
225001st - 405000th
3 Loveca Stones
405001st - 630000th
2 Loveca Stones
630001st - 900000th
1 Loveca Stone
Event Song Ranking Awards