思い出以上になりたくて
From Love Live! School Idol Festival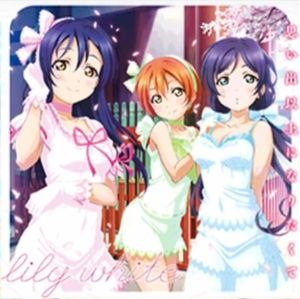 Title (romaji): Omoide Ijou ni Naritakute
Title (English): I Want It to Be More than a Memory
Title (Simplified Chinese): 想成为回忆以上的存在
Stage Attribute: PURE
How to Obtain: Complete the assignment for clearing Aki no Anata no Sora Tooku with a unit containing only Sonoda Umi, Hoshizora Rin, and Toujou Nozomi (at least one of each).
Note: Originally a special song from 2015/12/16 - 2016/02/15.
Info
Compose: rino
Arrange: Sakai Youichi
Lyrics: Hata Aki
Special song written to commemorate Love Live! School Idol Festival hitting 20 million players worldwide, released on December 23, 2015, and sung by the µ's sub-unit lily white, consisting of Sonoda Umi, Hoshizora Rin and Toujou Nozomi.
Easy
Stage Level:

★

Required LP: 5
EXP Gained: 12
C Rank
B Rank
A Rank
S Rank
SCORE
7000 pts
500 G
17500 pts
900 G
21000 pts
1500 G
24500 pts
2500 G
COMBO
21 Combo
250 G
35 Combo
500 G
49 Combo
750 G
70 Combo
1250 G
CLEAR
1 Time
25 FP
5 Times
50 FP
10 Times
75 FP
20 Times
100 FP
Normal
Stage Level:

★★★

★

Required LP: 10
EXP Gained: 26
C Rank
B Rank
A Rank
S Rank
SCORE
13992 pts
1500 G
34980 pts
2500 G
41976 pts
5000 G
48972 pts
7500 G
COMBO
32 Combo
1000 G
53 Combo
1500 G
75 Combo
2000 G
106 Combo
3000 G
CLEAR
5 Times
100 FP
10 Times
150 FP
20 Times
200 FP
40 Times
300 FP
Hard
C Rank
B Rank
A Rank
S Rank
SCORE
36890 pts
5000 G
92225 pts
8000 G
110670 pts
12000 G
129115 pts
1000 FP
COMBO
66 Combo
4000 G
109 Combo
7000 G
152 Combo
10000 G
217 Combo
1000 FP
CLEAR
10 Times
300 FP
20 Times
500 FP
40 Times
700 FP
100 Times
1 LS
Expert
C Rank
B Rank
A Rank
S Rank
SCORE
64566 pts
5000 G
161568 pts
8000 G
193698 pts
12000 G
226134 pts
1000 FP
COMBO
92 Combo
7000 G
153 Combo
10000 G
215 Combo
500 FP
306 Combo
1 LS
CLEAR
15 Times
300 FP
30 Times
500 FP
60 Times
1000 FP
120 Times
1 LS
Note Distributions
See Unit Formation for more information
| 思い出以上になりたくて | A | B | C | D | E | F | G | H | I |
| --- | --- | --- | --- | --- | --- | --- | --- | --- | --- |
| Easy | 5.25 | 8 | 11 | 8.5 | 4.25 | 9.5 | 11.25 | 8 | 6.5 |
| Normal | 9.5 | 14.75 | 12.5 | 11.75 | 6.25 | 12.75 | 17.5 | 15.75 | 10.25 |
| Hard | 22 | 28.25 | 29.25 | 25.25 | 13 | 25.25 | 30.25 | 29.25 | 24 |
| Expert | 31.5 | 46.75 | 39.75 | 39.5 | 4 | 40.25 | 39.75 | 46.75 | 30.5 |