永遠フレンズ
From Love Live! School Idol Festival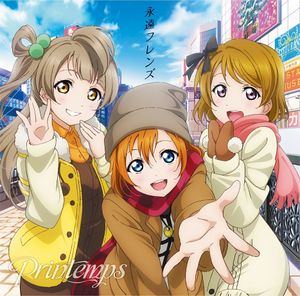 Title (romaji): Eien Friends
Title (English): Forever Friends
Title (Simplified Chinese): 永远的朋友们
Stage Attribute: SMILE
How to Obtain: Complete the assignment for clearing sweet&sweet holiday with a unit containing only Kousaka Honoka, Minami Kotori, and Koizumi Hanayo (at least one of each).
Note: Originally a special song from 2014/10/16 - 2015/01/15.
Info
Compose: Nakatsuchi Tomohiro
Arrange: Nakatsuchi Tomohiro
Lyrics: Hata Aki
Special song written to commemorate Love Live! School Idol Festival hitting three million players, released on November 12, 2014, and sung by the µ's sub-unit Printemps, consisting of Kousaka Honoka, Minami Kotori and Koizumi Hanayo.
Easy
Stage Level:

★★★

Required LP: 5
EXP Gained: 12
C Rank
B Rank
A Rank
S Rank
SCORE
12900 pts
500 G
32250 pts
900 G
38700 pts
1500 G
45150 pts
2500 G
COMBO
39 Combo
250 G
65 Combo
500 G
91 Combo
750 G
129 Combo
1250 G
CLEAR
1 Time
25 FP
5 Times
50 FP
10 Times
75 FP
20 Times
100 FP
Normal
Stage Level:

★★★

★★★

Required LP: 10
EXP Gained: 26
C Rank
B Rank
A Rank
S Rank
SCORE
27984 pts
1500 G
69960 pts
2500 G
83952 pts
5000 G
97944 pts
7500 G
COMBO
64 Combo
1000 G
106 Combo
1500 G
149 Combo
2000 G
212 Combo
3000 G
CLEAR
5 Times
100 FP
10 Times
150 FP
20 Times
200 FP
40 Times
300 FP
Hard
C Rank
B Rank
A Rank
S Rank
SCORE
66300 pts
5000 G
165750 pts
8000 G
198900 pts
12000 G
232050 pts
1000 FP
COMBO
117 Combo
4000 G
195 Combo
7000 G
273 Combo
10000 G
390 Combo
1000 FP
CLEAR
10 Times
300 FP
20 Times
500 FP
40 Times
700 FP
100 Times
1 LS
Expert
Stage Level:

★★★

★★★

★★★

Required LP: 25
EXP Gained: 83
Replay: YouTube Niconico
C Rank
B Rank
A Rank
S Rank
SCORE
112252 pts
5000 G
280896 pts
8000 G
336756 pts
12000 G
393148 pts
1000 FP
COMBO
160 Combo
7000 G
266 Combo
10000 G
373 Combo
500 FP
532 Combo
1 LS
CLEAR
15 Times
300 FP
30 Times
500 FP
60 Times
1000 FP
120 Times
1 LS
Note Distributions
See Unit Formation for more information
| 永遠フレンズ | A | B | C | D | E | F | G | H | I |
| --- | --- | --- | --- | --- | --- | --- | --- | --- | --- |
| Easy | 14 | 16 | 20.25 | 9 | 13 | 10 | 20.25 | 15 | 13 |
| Normal | 15.5 | 29.25 | 30.25 | 25 | 12.75 | 27 | 31.25 | 30.25 | 15.5 |
| Hard | 35.5 | 50.5 | 58.25 | 47.5 | 17.25 | 47.25 | 60.25 | 48.5 | 34.5 |
| Expert | 45.25 | 79.5 | 81 | 60 | 13 | 59.75 | 84 | 79.25 | 43.5 |