真夏は誰のモノ?
From Love Live! School Idol Festival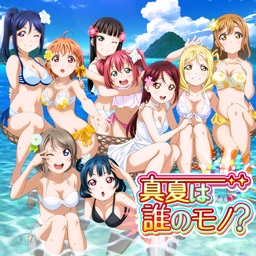 Title (romaji): Manatsu wa Dare no Mono?
Title (English): Who Does Summer Belong to?
Title (Simplified Chinese): 盛夏属于谁?
Stage Attribute: SMILE
Note: Aqours daily song.
Info
Compose: Harada Atsushi (Arte Refact)
Arrange: Harada Atsushi (Arte Refact)
Lyrics: Hata Aki
Second track on Love Live! Sunshine!! Duo/Trio Collection CD Vol.1 SUMMER VACATION, released on August 2, 2017. The song is sung by Kurosawa Dia and Kurosawa Ruby.
Easy
Stage Level:

★★★

★★

Required LP: 5
EXP Gained: 12
C Rank
B Rank
A Rank
S Rank
SCORE
18000 pts
1500 G
45000 pts
2500 G
54000 pts
5000 G
63000 pts
7500 G
COMBO
54 Combo
1000 G
90 Combo
1500 G
126 Combo
2000 G
180 Combo
3000 G
CLEAR
5 Times
100 FP
10 Times
150 FP
20 Times
200 FP
40 Times
300 FP
Normal
Stage Level:

★★★

★★★

★★

Required LP: 10
EXP Gained: 26
C Rank
B Rank
A Rank
S Rank
SCORE
39600 pts
5000 G
99000 pts
8000 G
118800 pts
12000 G
138600 pts
1000 FP
COMBO
90 Combo
4000 G
150 Combo
7000 G
210 Combo
10000 G
300 Combo
1000 FP
CLEAR
10 Times
300 FP
20 Times
500 FP
40 Times
700 FP
100 Times
1 LS
Hard
C Rank
B Rank
A Rank
S Rank
SCORE
79900 pts
10000 G
199750 pts
500 FP
239700 pts
1 LS
279650 pts
1 LS
COMBO
141 Combo
10000 G
235 Combo
500 FP
329 Combo
1 LS
470 Combo
1 LS
CLEAR
15 Times
500 FP
30 Times
1000 FP
60 Times
1 LS
150 Times
1 LS
Expert
C Rank
B Rank
A Rank
S Rank
SCORE
132930 pts
10000 G
332640 pts
500 FP
398790 pts
1 LS
465570 pts
1 LS
COMBO
189 Combo
10000 G
315 Combo
500 FP
441 Combo
1 LS
630 Combo
1 LS
CLEAR
15 Times
500 FP
30 Times
1000 FP
60 Times
1 LS
150 Times
1 LS
Note Distributions
See Unit Formation for more information
| 真夏は誰のモノ? | A | B | C | D | E | F | G | H | I |
| --- | --- | --- | --- | --- | --- | --- | --- | --- | --- |
| Easy | 22 | 21.5 | 21.5 | 19.25 | 17 | 20.25 | 21.75 | 21.5 | 22 |
| Normal | 35.5 | 33.75 | 41 | 35.75 | 11 | 39.75 | 42 | 35.75 | 35.25 |
| Hard | 53.25 | 59 | 58.5 | 56.5 | 28.25 | 57.75 | 55.75 | 61.25 | 53.25 |
| Expert | 76.25 | 78.75 | 84 | 76.75 | 23 | 75.75 | 84.75 | 75.75 | 75.25 |