眠れる森に行きたいな
From Love Live! School Idol Festival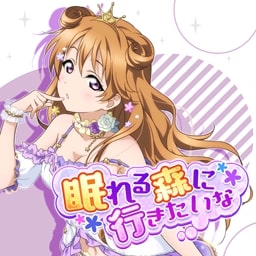 Title (romaji): Nemureru Mori ni Ikitai na
Title (English): I Want To Go To A Forest Where I Can Sleep
Stage Attribute: SMILE
Note: Special song from 2018/12/05 - 2019/06/30.
Info
Compose: Akira Sunset
Arrange: Hiroto Kikuchi
Lyrics: Hata Aki
Seventh track on TOKIMEKI Runners, released on November 21, 2018. This song is sung by Konoe Kanata.
Easy
Stage Level:

★

Required LP: 5
EXP Gained: 12
C Rank
B Rank
A Rank
S Rank
SCORE
C Score
500 G
B Score
900 G
A Score
1500 G
S Score
2500 G
COMBO
22 Combo
250 G
36 Combo
500 G
51 Combo
750 G
72 Combo
1250 G
CLEAR
1 Time
25 FP
5 Times
50 FP
10 Times
75 FP
20 Times
100 FP
Normal
Stage Level:

★★★

★

Required LP: 10
EXP Gained: 26
C Rank
B Rank
A Rank
S Rank
SCORE
C Score
1500 G
B Score
2500 G
A Score
5000 G
S Score
7500 G
COMBO
45 Combo
1000 G
74 Combo
1500 G
103 Combo
2000 G
147 Combo
3000 G
CLEAR
5 Times
100 FP
10 Times
150 FP
20 Times
200 FP
40 Times
300 FP
Hard
Stage Level:

★★★

★★★

★

Required LP: 15
EXP Gained: 46
Replay: [ YouTube] [ Niconico]
C Rank
B Rank
A Rank
S Rank
SCORE
C Score
5000 G
B Score
8000 G
A Score
12000 G
S Score
1000 FP
COMBO
61 Combo
4000 G
101 Combo
7000 G
141 Combo
10000 G
201 Combo
1000 FP
CLEAR
10 Times
300 FP
20 Times
500 FP
40 Times
700 FP
100 Times
1 LS
Expert
Stage Level:

★★★

★★★

★★★

Required LP: 25
EXP Gained: 83
Replay: YouTube [ Niconico]
C Rank
B Rank
A Rank
S Rank
SCORE
C Score
5000 G
B Score
8000 G
A Score
12000 G
S Score
1000 FP
COMBO
90 Combo
7000 G
149 Combo
10000 G
208 Combo
500 FP
297 Combo
1 LS
CLEAR
15 Times
300 FP
30 Times
500 FP
60 Times
1000 FP
120 Times
1 LS
Note Distributions
See Unit Formation for more information
| 眠れる森に行きたいな | A | B | C | D | E | F | G | H | I |
| --- | --- | --- | --- | --- | --- | --- | --- | --- | --- |
| Easy | TBA | TBA | TBA | TBA | TBA | TBA | TBA | TBA | TBA |
| Normal | TBA | TBA | TBA | TBA | TBA | TBA | TBA | TBA | TBA |
| Hard | TBA | TBA | TBA | TBA | TBA | TBA | TBA | TBA | TBA |
| Expert | TBA | TBA | TBA | TBA | TBA | TBA | TBA | TBA | TBA |