錯覚CROSSROADS
From Love Live! School Idol Festival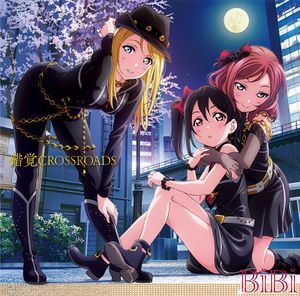 Title (romaji): Sakkaku CROSSROADS
Title (English): Delusion CROSSROADS
Title (Simplified Chinese): 错觉十字路口
Stage Attribute: COOL
How to Obtain: Complete the assignment for clearing Fuyu ga Kureta Yokan with a unit containing only Ayase Eli, Nishikino Maki, and Yazawa Nico (at least one of each).
Note: Originally a special song from 2016/01/15 - 2016/03/15.
Info
Compose: Kawasaki Satomi
Arrange: Watanabe Kazunori
Lyrics: Hata Aki
Special song written to commemorate Love Live! School Idol Festival hitting 20 million players worldwide, released on January 20, 2016, and sung by the µ's sub-unit BiBi, consisting of Ayase Eli, Nishikino Maki and Yazawa Nico.
Easy
Stage Level:

★

Required LP: 5
EXP Gained: 12
C Rank
B Rank
A Rank
S Rank
SCORE
8500 pts
500 G
21250 pts
900 G
25500 pts
1500 G
29750 pts
2500 G
COMBO
26 Combo
250 G
43 Combo
500 G
60 Combo
750 G
85 Combo
1250 G
CLEAR
1 Time
25 FP
5 Times
50 FP
10 Times
75 FP
20 Times
100 FP
Normal
Stage Level:

★★★

★★

Required LP: 10
EXP Gained: 26
C Rank
B Rank
A Rank
S Rank
SCORE
20328 pts
1500 G
50820 pts
2500 G
60984 pts
5000 G
71148 pts
7500 G
COMBO
47 Combo
1000 G
77 Combo
1500 G
108 Combo
2000 G
154 Combo
3000 G
CLEAR
5 Times
100 FP
10 Times
150 FP
20 Times
200 FP
40 Times
300 FP
Hard
C Rank
B Rank
A Rank
S Rank
SCORE
51340 pts
5000 G
128350 pts
8000 G
154020 pts
12000 G
179690 pts
1000 FP
COMBO
91 Combo
4000 G
151 Combo
7000 G
212 Combo
10000 G
302 Combo
1000 FP
CLEAR
10 Times
300 FP
20 Times
500 FP
40 Times
700 FP
100 Times
1 LS
Expert
C Rank
B Rank
A Rank
S Rank
SCORE
105500 pts
5000 G
264000 pts
8000 G
316500 pts
12000 G
369500 pts
1000 FP
COMBO
150 Combo
7000 G
250 Combo
10000 G
350 Combo
500 FP
500 Combo
1 LS
CLEAR
15 Times
300 FP
30 Times
500 FP
60 Times
1000 FP
120 Times
1 LS
Note Distributions
See Unit Formation for more information
| 錯覚CROSSROADS | A | B | C | D | E | F | G | H | I |
| --- | --- | --- | --- | --- | --- | --- | --- | --- | --- |
| Easy | 12.25 | 6 | 13.25 | 8 | 6 | 9 | 12.25 | 8 | 11 |
| Normal | 18.25 | 18.25 | 22 | 17.25 | 9.5 | 17.25 | 21 | 18.25 | 18.5 |
| Hard | 30 | 41.5 | 38 | 35 | 22.25 | 36 | 37 | 40.25 | 33 |
| Expert | 37 | 68.5 | 78 | 64.25 | 24 | 63 | 77 | 68.25 | 37.5 |