GALAXY HidE and SeeK
From Love Live! School Idol Festival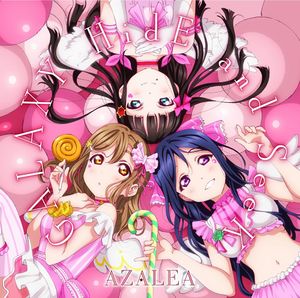 Title (Simplified Chinese): 银河系躲猫猫
Stage Attribute: SMILE
How to Obtain: Clear Chapter 25, Part 1 of the Aqours story (Clear 66 Aqours assignments).
Note: Originally the Calling you! event song.
Info
Compose: Takeichi Yoshinobu
Arrange: Takeichi Yoshinobu
Lyrics: Hata Aki
Single released on May 31, 2017 and sung by the Aqours sub-unit AZALEA, consisting of Matsuura Kanan, Kurosawa Dia and Kunikida Hanamaru.
Easy
Stage Level:

★

Required LP: 5
Required Candies (event): 15
EXP Gained: 12
C Rank
B Rank
A Rank
S Rank
SCORE
7900 pts
500 G
19750 pts
900 G
23700 pts
1500 G
27650 pts
2500 G
COMBO
24 Combo
250 G
40 Combo
500 G
56 Combo
750 G
79 Combo
1250 G
CLEAR
1 Time
25 FP
5 Times
50 FP
10 Times
75 FP
20 Times
100 FP
Normal
Stage Level:

★★★

★★

Required LP: 10
Required Candies (event): 30
EXP Gained: 26
C Rank
B Rank
A Rank
S Rank
SCORE
23760 pts
1500 G
59400 pts
2500 G
71280 pts
5000 G
83160 pts
7500 G
COMBO
54 Combo
1000 G
90 Combo
1500 G
126 Combo
2000 G
180 Combo
3000 G
CLEAR
5 Times
100 FP
10 Times
150 FP
20 Times
200 FP
40 Times
300 FP
Hard
Stage Level:

★★★

★★★

★★

Required LP: 15
Required Candies (event): 45
EXP Gained: 46
Replay: YouTube Niconico
C Rank
B Rank
A Rank
S Rank
SCORE
46410 pts
5000 G
116025 pts
8000 G
139230 pts
12000 G
162435 pts
1000 FP
COMBO
82 Combo
4000 G
137 Combo
7000 G
192 Combo
10000 G
273 Combo
1000 FP
CLEAR
10 Times
300 FP
20 Times
500 FP
40 Times
700 FP
100 Times
1 LS
Expert
Stage Level:

★★★

★★★

★★★

Required LP: 25
Required Candies (event): 75
EXP Gained: 83
C Rank
B Rank
A Rank
S Rank
SCORE
88409 pts
5000 G
221232 pts
8000 G
265227 pts
12000 G
309641 pts
1000 FP
COMBO
126 Combo
7000 G
210 Combo
10000 G
294 Combo
500 FP
419 Combo
1 LS
CLEAR
15 Times
300 FP
30 Times
500 FP
60 Times
1000 FP
120 Times
1 LS
Expert (Randomized)
Stage Level:

★★★

★★★

★★★

Required LP: 25
Required Candies (event): 15
EXP Gained: 83
C Rank
B Rank
A Rank
S Rank
SCORE
88409 pts
5000 G
221232 pts
8000 G
265227 pts
12000 G
309641 pts
1000 FP
COMBO
126 Combo
7000 G
210 Combo
10000 G
294 Combo
500 FP
419 Combo
1 LS
CLEAR
9 Times
300 FP
12 Times
500 FP
24 Times
1000 FP
60 Times
1 LS
Note Distributions
See Unit Formation for more information
| GALAXY HidE and SeeK | A | B | C | D | E | F | G | H | I |
| --- | --- | --- | --- | --- | --- | --- | --- | --- | --- |
| Easy | 9.25 | 13.75 | 10.25 | 6 | 2.25 | 7 | 11.5 | 11.75 | 10.25 |
| Normal | 24.25 | 19.25 | 20.25 | 22.25 | 10 | 22.25 | 22.5 | 18.25 | 24.25 |
| Hard | 35.75 | 31.5 | 35.75 | 32.5 | 12.5 | 34.5 | 35 | 33.75 | 33.75 |
| Expert | 54.75 | 48.5 | 54.25 | 56.5 | 9 | 55.25 | 55.25 | 49.75 | 51.5 |