Main Page (Old)
From Love Live! School Idol Festival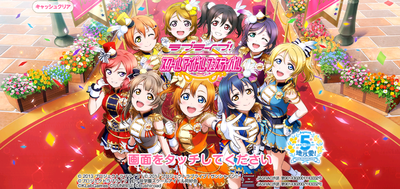 Love Live! School Idol Festival
is a social rhythm game for mobile devices (both for iOS and Android) produced by KLabGames and bushiroad. In the game, the player creates units based on collectible virtual cards and performs Live concerts with a designated unit. All the songs used in the game are sung by members of the Love Live! idol group μ's.
NOTE: Our wiki tries to be as comprehensive as possible, but we still may miss a few things. Be sure to check out the Japanese wikis if anything is missing. (Please tell us so we can add it to our wiki as well!)
If you notice any side stories or quotes that are missing from here and are willing to take screenshots of them, feel free to contact us. (More specifically, please talk to Menma in the IRC channel or leave a link on the Feedback page.)
SITE NEWS:
You may now access this site at lovelive.kouhi.me and it will redirect to this wiki, so you no longer have to wonder what decaffeination has to do with idols every time you type or copy/paste the link.
A Feedback page has been made which allows anonymous editing. Here you can provide your feedback in the case that you can't be bothered to go on IRC and that stupid site admin is being too slow to respond on Twitter. This page will be monitored closely, however, and if it gets too out of control it will be shut down.
News
Overseas localization of LLSIF has been announced. In spring 2014, English, China, Taiwan, Hong Kong, and Korea editions of the game will be released. The game will be localized into their respective languages, and so the servers will be separate from the current Japanese ones. It is unknown whether you will be able to transfer your account to another server (seems unlikely).
The new Weiss Shwarz "Love Live! feat. School Idol Festival" booster boxes come with a serial code for a set of three limited edition SRs (chosen at random from three sets total) featuring the outfits from No brand girls.
The タカラモノズ single comes with a serial code for a set of three limited edition SRs (chosen at random from three sets total).
The Love Live Pouch & Smartphone Gloves set being sold at μ's→NEXT LoveLive! 2014 ~ENDLESS PARADE~ comes with a limited edition Kotori UR. Purchasing the set at the event will also net you a premium recruitment ticket.
The Love Live anime's second season OP single comes with a serial code for a random set of three limited edition Rs: Honoka/Maki/Nozomi, Kotori/Rin/Eli, or Umi/Hanayo/Nico.
Game Updates
April 1, 2014
There is a special Alpaca-only recruitment box today!
March 31, 2014
There was a bug with the event song score rankings that caused them to not be updated for the last half hour of the event. They have been corrected now.
March 31, 2014
Chapters 17-1 and 17-2 of the main story have been added
New fruit bar themed cards have been added to premium recruitment: UR Eli, SR Honoka, SR Kotori, SR Rin, SR Hanayo

There is a higher chance of obtaining these cards until April 5 (base SR/UR obtain rate does not change)

The event SR Nico (Doll Festival) has also been added to premium recruitment (low chance to obtain)
Until April 5, doing a 10+1 draw (50 loveca stones) will guarantee you at least an SR or higher!
One new card has also been added to regular recruitment
March 27, 2014
There will be maintenance on April 3 from 2 AM to 5 AM JST for a server performance update
March 12, 2014: 2 Million Users & 1 Year Anniversary Campaign!
Daily loveca presents

From March 13 to March 19, everyone will receive one free loveca stone each day (2 million users celebration)
From April 16 to April 22, everyone will receive one free loveca stone per day (anniversary celebration)

New daily songs

Starting in mid-April, most of the bonus songs from the anime's first season BDs will be added as daily songs
The songs that will be added are 夢なき夢は夢じゃない (Yume naki Yume wa Yume janai by Honoka), Anemone heart (by Kotori and Umi), なわとび (Nawatobi by Hanayo), Beat in Angel (by Rin and Maki), にこぷり♡女子道 (Nicopuri Joshidou by Nico), and 硝子の花園 (Glass no Hanazono by Eli and Nozomi)
There will be EX versions of these songs as well as of the current daily songs

New R cards

On April 15, new R rarity cards will be added to premium and regular recruitment
All μ's members will be added - after awakening the cards they will have the outfits from Bokura wa Ima no Naka de

Solo song events starting in April - collaboration with Kadokawa's "School idol diary" series

Popular scenarios from the series will be used for the events
The songs will be the solo songs from the Duo/Trio singles: Someday of my life (Honoka), ありふれた悲しみの果て (Arifureta Kanashimi no Hate, Eli), ぶる〜べりぃ♡とれいん (Blueberry Train, Kotori), 勇気のReason (Yuuki no Reason, Umi), 恋のシグナルRin rin rin (Koi no Signal Rin rin rin, Rin), Daring!! (Maki), 純愛レンズ (Jun'ai Lens, Nozomi), 孤独なHeaven (Kodoku na Heaven, Hanayo), and まほうつかいはじめました (Mahoutsukai Hajimemashita, Nico)

μ's summer poll

Just like with the Christmas card poll, users will be able to vote for a character and situation (this time it's summer themed) and the winning character will get a special UR made, which will be distributed as a login bonus
The poll will run from April 15 to April 30 and results will be revealed on May 15
At the same time, there will be a poll allowing you to vote for three non-μ's characters (i.e. N cards), and the top 9 will be determined

From these 9, the top 3 will receive special illustrations

In summer 2014, a new event type will be added - stay tuned for details
A new LLSIF guidebook & illustration collection is in the works!
Previous updates can be found here.
Current EX Songs
Stages are available for the full 24 hours (starting JST midnight) of each day they are in the game, including start/end days
Schedule subject to change at KLab's whim
External Links
Japanese Wikis
Other Links
Contact
For criticisms and/or suggestions, you may go to #fang-tan @ irc.rizon.net and tell us there, post it in the Feedback page, or contact TReusbucks to address any issues.