RED GEM WINK
From Love Live! School Idol Festival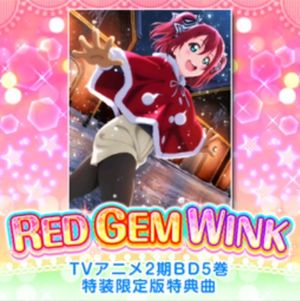 Title (Simplified Chinese): 红宝石之光
Stage Attribute: PURE
Note: Special song from 2018/04/15 - 2018/05/05.
Info
Compose: Takada Kyou
Arrange: Takada Kyou
Lyrics: Hata Aki
Featured song on Love Live! Sunshine!! S2 Original Song CD 5, included with the limited edition Blu-ray volume 5 of the Love Live! Sunshine!! anime's second season, released on April 24, 2018. The song is sung by Kurosawa Ruby.
Easy
Stage Level:

★★

Required LP: 5
EXP Gained: 12
C Rank
B Rank
A Rank
S Rank
SCORE
10500 pts
500 G
26250 pts
900 G
31500 pts
1500 G
36750 pts
2500 G
COMBO
32 Combo
250 G
53 Combo
500 G
74 Combo
750 G
105 Combo
1250 G
CLEAR
1 Time
25 FP
5 Times
50 FP
10 Times
75 FP
20 Times
100 FP
Normal
Stage Level:

★★★

★★

Required LP: 10
EXP Gained: 26
C Rank
B Rank
A Rank
S Rank
SCORE
25740 pts
1500 G
64350 pts
2500 G
77220 pts
5000 G
90090 pts
7500 G
COMBO
59 Combo
1000 G
98 Combo
1500 G
137 Combo
2000 G
195 Combo
3000 G
CLEAR
5 Times
100 FP
10 Times
150 FP
20 Times
200 FP
40 Times
300 FP
Hard
Stage Level:

★★★

★★★

★★

Required LP: 15
EXP Gained: 46
Replay: YouTube Niconico
C Rank
B Rank
A Rank
S Rank
SCORE
47430 pts
5000 G
118575 pts
8000 G
142290 pts
12000 G
166005 pts
1000 FP
COMBO
84 Combo
4000 G
140 Combo
7000 G
196 Combo
10000 G
279 Combo
1000 FP
CLEAR
10 Times
300 FP
20 Times
500 FP
40 Times
700 FP
100 Times
1 LS
Expert
C Rank
B Rank
A Rank
S Rank
SCORE
91574 pts
5000 G
229152 pts
8000 G
274722 pts
12000 G
320726 pts
1000 FP
COMBO
131 Combo
7000 G
217 Combo
10000 G
304 Combo
500 FP
434 Combo
1 LS
CLEAR
15 Times
300 FP
30 Times
500 FP
60 Times
1000 FP
120 Times
1 LS
Note Distributions
See Unit Formation for more information
| RED GEM WINK | A | B | C | D | E | F | G | H | I |
| --- | --- | --- | --- | --- | --- | --- | --- | --- | --- |
| Easy | 9.25 | 15.75 | 14.5 | 10.75 | 9.75 | 10.75 | 14.5 | 15.5 | 9.25 |
| Normal | 18.25 | 25.25 | 23.75 | 23.5 | 16.25 | 23.5 | 24.75 | 26.25 | 19.25 |
| Hard | 26.25 | 30.75 | 45 | 31 | 20.25 | 30 | 45 | 30.75 | 30.25 |
| Expert | 45 | 54 | 61.5 | 57.25 | 22 | 54.25 | 62.5 | 55 | 44 |