空も心も晴れるから
From Love Live! School Idol Festival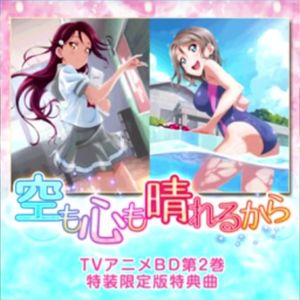 Title (romaji): Sora mo Kokoro mo Hareru kara
Title (English): Because Both the Sky and Our Hearts Will Clear up
Title (Simplified Chinese): 天空与心灵放晴
Stage Attribute: PURE
How to Obtain: Clear Chapter 18, Part 3 of the Aqours story (Clear 53 Aqours assignments).
Note: Originally a special song from 2016/10/15 - 2016/11/05.
Info
Compose: Harada Atsushi (Arte Refact)
Arrange: Waki Masatomi (Arte Refact)
Lyrics: Hata Aki
Featured song on Love Live! Sunshine!! Original Song CD 2, included with the limited edition Blu-ray volume 2 of the Love Live! Sunshine!! anime, released on October 26, 2016. The song is sung by Takami Chika, Sakurauchi Riko and Watanabe You.
Easy
Stage Level:

★

Required LP: 5
EXP Gained: 12
C Rank
B Rank
A Rank
S Rank
SCORE
7500 pts
500 G
18750 pts
900 G
22500 pts
1500 G
26250 pts
2500 G
COMBO
23 Combo
250 G
38 Combo
500 G
53 Combo
750 G
75 Combo
1250 G
CLEAR
1 Time
25 FP
5 Times
50 FP
10 Times
75 FP
20 Times
100 FP
Normal
Stage Level:

★★★

★

Required LP: 10
EXP Gained: 26
C Rank
B Rank
A Rank
S Rank
SCORE
18612 pts
1500 G
46530 pts
2500 G
55836 pts
5000 G
65142 pts
7500 G
COMBO
43 Combo
1000 G
71 Combo
1500 G
99 Combo
2000 G
141 Combo
3000 G
CLEAR
5 Times
100 FP
10 Times
150 FP
20 Times
200 FP
40 Times
300 FP
Hard
C Rank
B Rank
A Rank
S Rank
SCORE
37060 pts
5000 G
92650 pts
8000 G
111180 pts
12000 G
129710 pts
1000 FP
COMBO
66 Combo
4000 G
109 Combo
7000 G
153 Combo
10000 G
218 Combo
1000 FP
CLEAR
10 Times
300 FP
20 Times
500 FP
40 Times
700 FP
100 Times
1 LS
Expert
C Rank
B Rank
A Rank
S Rank
SCORE
72373 pts
5000 G
181104 pts
8000 G
217119 pts
12000 G
253477 pts
1000 FP
COMBO
103 Combo
7000 G
172 Combo
10000 G
241 Combo
500 FP
343 Combo
1 LS
CLEAR
15 Times
300 FP
30 Times
500 FP
60 Times
1000 FP
120 Times
1 LS
Note Distributions
See Unit Formation for more information
| 空も心も晴れるから | A | B | C | D | E | F | G | H | I |
| --- | --- | --- | --- | --- | --- | --- | --- | --- | --- |
| Easy | 5.5 | 9.75 | 13.25 | 8.25 | 7.25 | 8.25 | 14 | 8.75 | 5.75 |
| Normal | 11.75 | 20.75 | 16.75 | 17.25 | 11 | 17.25 | 18.75 | 20.75 | 11.75 |
| Hard | 17.75 | 29.75 | 34.25 | 25.75 | 12 | 23.5 | 33.25 | 31.75 | 19.75 |
| Expert | 28.25 | 51 | 58.5 | 37.25 | 10.25 | 37.25 | 57.5 | 51 | 28.25 |