Touring Rally Round 1
From Love Live! School Idol Festival

Chapter
Location
Title
Summary
Unlock
Date
Song
Challenge Quest
Prologue
Classroom
Notice from a Newspaper Company
A notice arrives for Aqours from a newspaper company...!?
N/A
N/A
Ch. 1
Clubroom
Searching for a Photoshoot Location
The 9 search for a place to have their picture taken for an article

HAPPY PARTY TRAIN

Ch. 2
Gym
Heart of a Challenger
Aqours leave the clubroom for the gym, but...

Yume de Yozora wo Terashitai

Ch. 3
Music Room
A Place to Compose?
Where's a place that Riko-chan can compose...!?
Apr. 6

Waku-Waku-Week!

Ch. 4
Courtyard
A Place Befitting Aqours
The place they found that fits Aqours is...!?
Apr. 8

Kimi no Kokoro wa Kagayaiteru kai?

Ch. 5
Rooftop
We Found It: A Place Befitting Aqours!
Where's the place that Yoshiko is pointing at...!?
Apr. 10

Aozora Jumping Heart
PLEASE NOTE: This event is a Touring Rally event.
To participate, simply go to the event page shown on the home screen.
Briefly, The rules are as follows:
Gather event points by clearing the story and playing lives in "free quests". Once you finish the story, you can play the live for event points as many times as you like. Gain bonus rewards by clearing song missions!
Unlock more free quests by clearing certain conditions. The unlock conditions can be checked by long-pressing the quest icon in the map area.
Take on the "challenge quest" to participate in the score rankings. This quest will automatically unlock after clearing chapter 1 of the story.

Free quests do not count towards the score rankings
The song used for the challenge quest is randomly selected from a pool of songs used for each event
Doing the challenge quest will give event points
Note that the challenge quest will not count toward the Reward Box gauge at the end of a live
Event Cards
Hasekura Kasane [Normal #1167]

Max Level: 40

HP: 2

690

2750

1050


Appeal: None




---


Center Skill: None



Kurosawa Dia (Playing Cards Ver.) [Super Rare #1168]

Max Level: 80

HP: 4

4810

3980

3390


Appeal: Poker Face
For every 19 notes, there is a 24% chance of turning all goods and greats in the next 4 seconds into perfects. (Level 1)




---


Center Skill: Smile Heart
Increases Smile points by 6%.



Ohara Mari (Playing Cards Ver.) [Super Rare #1169]

Max Level: 80

HP: 4

3340

4770

4050


Appeal: Straight Flush
For every 24 notes, there is a 28% chance of increasing player's score by 425 points. (Level 1)




---


Center Skill: Pure Heart
Increases Pure points by 6%.



Event Point Awards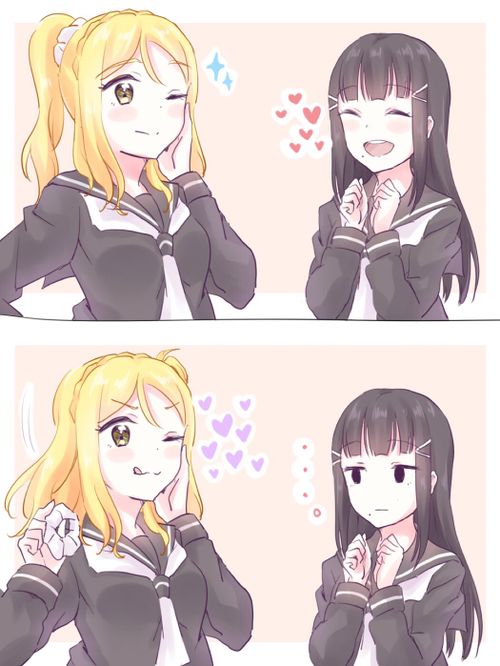 | Points Achieved | Reward |
| --- | --- |
| 20 pts | 5000 G |
| 50 pts | 50 Friend points |
| 100 pts | 5500 G |
| 250 pts | 100 Friend points |
| 500 pts | 1 Loveca Stone |
| 750 pts | 6000 G |
| 1000 pts | 5000 G |
| 1250 pts | 6500 G |
| 1500 pts | 200 Friend Points |
| 2000 pts | 7000 G |
| 2500 pts | 1 Loveca Stone |
| 3000 pts | 250 Friend Points |
| 3500 pts | 7500 G |
| 4000 pts | 300 Friend Points |
| 4500 pts | N: Hasekura Kasane |
| 5000 pts | 1 Loveca Stone |
| 5750 pts | 350 Friend Points |
| 6500 pts | 10000 G |
| 7250 pts | 400 Friend Points |
| 8000 pts | 12500 G |
| 8750 pts | 450 Friend Points |
| 9500 pts | 15000 G |
| 11000 pts | 1 Loveca Stone |
| 12500 pts | R: Shiitake |
| 15000 pts | 500 Friend Points |
| 17500 pts | R: Miyama Satoko |
| 20000 pts | 20000 G |
| 22500 pts | 550 Friend Points |
| 25000 pts | SR Dia |
| 27500 pts | 600 Friend Points |
| 30000 pts | 20000 G |
| 32500 pts | 2 Loveca Stones |
| 35000 pts | 700 Friend Points |
| 37500 pts | 25000 G |
| 40000 pts | 800 Friend Points |
| 42500 pts | R: Yamauchi Nanako |
| 45000 pts | 30000 G |
| 47500 pts | 2 Loveca Stones |
| 50000 pts | 900 Friend Points |
| 52500 pts | 40000 G |
| 55000 pts | 1000 Friend Points |
| 57500 pts | 50000 G |
| 60000 pts | SR Dia |
| 62500 pts | 2 Loveca Stones |
| 65000 pts | 1100 Friend Points |
| 67500 pts | 75000 G |
| 70000 pts | 1200 Friend Points |
| 75000 pts | 1 Ticket |
| 80000 pts | 2 Loveca Stones |
| 90000 pts | 1300 Friend Points |
| 100000 pts | SR Dia |
| 110000 pts | 1 Ticket |
| 120000 pts | 1400 Friend Points |
| 130000 pts | 1 Ticket |
| 140000 pts | 1500 Friend Points |
| 150000 pts | 100000G |
| 160000 pts | 4 Loveca Stones |
Event Point Ranking Awards
Score Ranking Awards
Event Rank
Reward
1st - 10000th
SSR seal x1

SR seal x3

R seal x20

10001st - 30000th
SR seal x3

R seal x20

30001st - 50000th
SR seal x2

R seal x20

50001st - 75000th
SR seal x1

R seal x20

75001st - 120000th
R seal x20
120001st - 250000th
R seal x15
250001st - 450000th
R seal x10
450001st - 700000th
R Seal x5
700001st - 1000000th
R Seal x1