Tsushima Yoshiko
From Love Live! School Idol Festival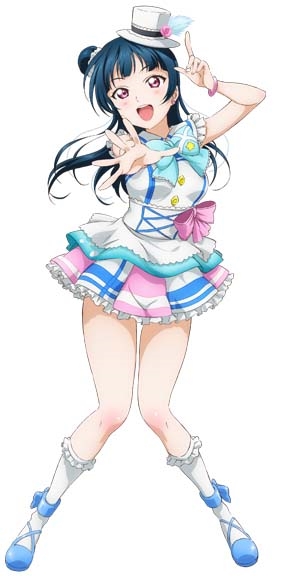 Character Profile
Japanese Name: 津島善子
Grade: 1st Year
Birthday: July 13 (Cancer)
Blood Type: O
Height: 156cm
Hobbies: "Little Devil" style fashion (小悪魔)
Skills: Video Games, Magic
Favorite Food: Chocolate, Strawberries
Least Favorite Food: Oranges
Main Attribute:

Cool

CV: Kobayashi Aika

A first-year student who likes the "little devil" look and proclaims herself to be "Jeanne*, the fallen angel". Born in the urban side of Numazu city, she's bright, self-assured, smart, and thoughtful. She's also cursed by extreme bad luck, running into all kinds of unforeseen trouble wherever she goes.
(*Note: pronounced "Yohane" in Japanese)
Cards
Rares
...
Super Rares
...
Ultra Rares
...
Side Stories
TBD
Quotes
Home Screen
...
Tapping the Character
...
Other Screens
...
Event-Triggered
...
Date-Triggered
...
Cameos
...